Your Evening Briefing
Here are today's top stories
By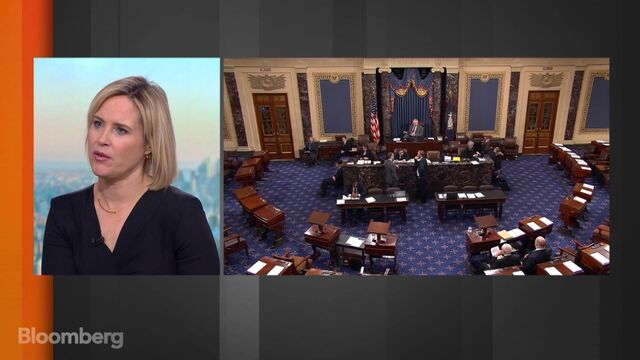 Want to receive this post in your inbox every afternoon? Sign up here.
It's that time again: the arrival of sweeping lists that take stock of the last year, whether you want to relive it or not. For some, it's especially jarring to look back on January or February (or even September or October) and realize that what felt like five years ago was actually a few months ago. The Bloomberg 50 examines 2017's most influential executives, entrepreneurs, and entertainers, and it's filled with names that aren't always on those lists. —Megan Hess
One step closer to passing the GOP's tax overhaul. Republican Senator John McCain of Arizona said he's decided to support the Senate tax overhaul bill. No one was taking his vote for granted after he voted no on his party's attempt to demolish the Affordable Care Act this summer. The Dow surged more than 300 points, extending its climb past 24,000, after McCain said he would back the bill. A final vote is expected by the end of the week.
Get ready for concealed guns in all 50 states. The NRA has called the concealed carry bill, which would make it easier for gun owners to keep their firearms hidden when crossing state lines, its "highest legislative priority in Congress." Despite concerns raised by Democrats about states' rights and domestic violence, the Republican-controlled Congress has pushed the proposal closer to becoming law.
The White House is weighing a plan to replace Rex Tillerson. The secretary of state would be dropped in favor of CIA Director Mike Pompeo, three administration officials said. It's unclear when the shakeup will happen, but White House staff have been debating the move since at least September, according to one official. Tillerson and President Donald Trump have clashed repeatedly since the summer, when their relationship began to sour.
A Christmas miracle, after a Christmas snafu. American Airlines said it has found pilots to staff all but "a few hundred" flights over the December holidays, easing concerns of major disruptions a day after an embarrassing glitch showed staffing where there wasn't any. It raised the possibility that as many as 15,000 flights wouldn't have pilots — so the airline offered 1.5 times normal pay to take the unassigned flights.
Nancy Pelosi and Paul Ryan called on Representative John Conyers to resign after allegations that he sexually harassed members of his staff. Congress is requiring members and staff to undergo sexual harassment training, but it probably won't help: Three states have already taken a similar approach, and the track record is not encouraging.
Your Apple Watch could tell when you're having a stroke. A device embedded in a new wristband for the watch uses artificial intelligence to warn you when danger is imminent. The KardiaBand from AliveCor analyzes heart rate based on the wearer's history and a trove of medical data, and instead of applying a generic range, it determines what's abnormal for you.
The Bloomberg 50. From finance and politics to tech and entertainment, these people defined global business in 2017. They deserve applause and recognition—or, in some cases, just recognition. So if you don't know who Yoshiaki Koizumi, Marty Chavez, Luhan Yang, Luisa Ortega Díaz, and Agnes Gund are, that's OK. Keep reading. And then check out the people to keep an eye on next year.
Before it's here, it's on the Bloomberg Terminal.
LEARN MORE