White House Weighs Replacing Tillerson With Pompeo
By and
CIA Director Mike Pompeo may replace secretary of State

Trump has said Tillerson may leave by the end of the year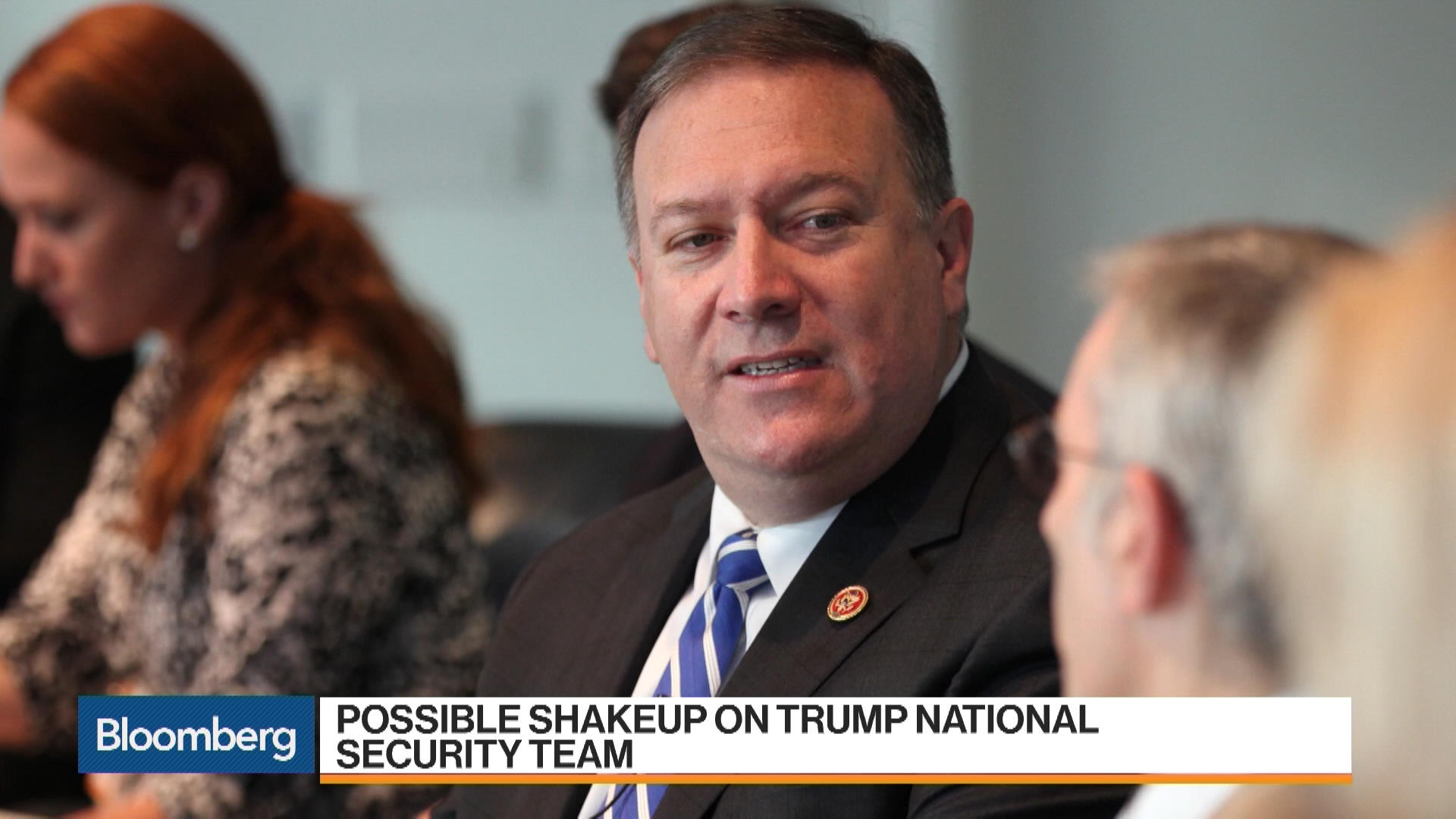 The White House is weighing a plan to replace Secretary of State Rex Tillerson with CIA Director Mike Pompeo, three administration officials said, amid frustration with the top diplomat's slow pace of hiring and repeated clashes with President Donald Trump.
Trump's staff have been debating the shakeup since at least September, according to one of the officials. Relations between White House staff and Tillerson's inner circle have been broken since summer, when the two sides all but stopped talking, the official said.

Administration spokeswomen declined to rule out reports that Tillerson is on the way out or say that Trump has full confidence in his top diplomat. White House press secretary Sarah Sanders told reporters Thursday that "when the president loses confidence in somebody, they'll no longer be here," adding only that Tillerson's "future right now is to continue working hard as secretary of state."
State Department spokeswoman Heather Nauert said Tillerson is continuing with a "robust" agenda and still plans to travel to Europe for meetings next week. White House Chief of Staff John Kelly called the State Department Thursday to say reports that Tillerson is being ousted aren't true, Nauert said. But she, too, emphasized that Tillerson, like all administration appointees, "serves at the pleasure of the president."
"He's continuing with his meetings, he's continuing with his calls," Nauert told reporters.

The timing of a potential shakeup for Trump's national security team is unclear. The president has told advisers that Tillerson might be out of his job before the end of the year, a fourth person familiar with the matter said, a ten-month tenure that would be among the shortest in modern times.
All of the officials spoke on condition of anonymity because no decision has been made. Tillerson was at the White House Thursday morning for a previously scheduled meeting between Trump and the crown prince of Bahrain, and the president declined to answer reporters' questions about whether his secretary of state would step down.
Nauert said Tillerson later returned to the White House for another previously planned meeting.
The New York Times reported earlier that Kelly had developed a plan to replace Tillerson with Pompeo and nominate Senator Tom Cotton, an Arkansas Republican, for Pompeo's job. Late on Wednesday, Tillerson canceled plans to speak on Thursday at a World AIDS Day event and sent a deputy instead.
Cotton spokeswoman Caroline Tabler said the senator's focus "is on serving Arkansans in the Senate."
Intelligence Briefings
A Central Intelligence Agency spokesman also declined comment on the prospect of Pompeo being nominated for secretary of state and Cotton for the CIA post. Working in Pompeo's favor is the close relationship he's cultivated with Trump. He's said that he delivers the president's daily intelligence briefing in person most days. Since beginning his tenure as CIA chief in January, Pompeo has served as a key defender of Trump's policies, from Iran to China.
The latest developments come as foreign policy crises, including North Korea's nuclear program and rising tensions between Saudi Arabia and Iran, dominate much of the White House's agenda. On Wednesday, the president managed to instigate a diplomatic spat with the U.K., historically America's closest ally, after Trump retweeted propaganda from a far-right British anti-Muslim group. U.K. Prime Minister Theresa May, on a visit to the Middle East, said it was "the wrong thing to do."
Trump and Tillerson, the former chief executive officer of Exxon Mobil Corp., have repeatedly clashed over policy and politics, but State Department officials had described those disagreements as healthy arguments and said the president enjoyed the sparring. They insisted that Tillerson, 65, planned to stay through the president's first term.
'Establishment' Thinking
At the same time, White House officials said Trump -- who has relished upending traditional presidential and diplomatic norms -- has come to dislike Tillerson for his reserved demeanor and what's been labeled an "establishment" way of thinking.
The two have repeatedly disagreed on policy: whether to stay in the Paris climate change accord, whether to side with Saudi Arabia in its dispute with Qatar, how hard to seek a diplomatic solution over North Korea's nuclear program. Trump has sometimes contradicted Tillerson in tweets.
After Tillerson told reporters in China in October that the U.S. was talking with North Korean officials through diplomatic back channels, the president undercut him, saying on Twitter that he told his "wonderful" secretary of state that "he is wasting his time trying to negotiate with Little Rocket Man," a reference to North Korean leader Kim Jong Un.
'Save Your Energy'
"Save your energy Rex, we'll do what has to be done!" Trump added.
State Department officials downplayed those disagreements, saying Tillerson served as a moderating voice and helped the president develop more rounded and comprehensive views of foreign policy.
Nauert suggested Thursday that the intrigue about Tillerson's future was part of a "tough game of politics" typical in Washington.
"He doesn't always understand and accept how Washington works," Nauert said, but she called him "unflappable."
Tillerson's relationship with Trump had publicly appeared to warm of late -- the two men were frequently side-by-side during meetings in Japan, China, Vietnam and the Philippines during Trump's trip to Asia earlier this month.
Racial Protests
Their relationship had soured over the summer, after Trump's comments about racial protests that led to a death in Charlottesville, Virginia, and a politically charged speech the president gave to a national gathering of the Boy Scouts of America, an organization Tillerson once led.
Relations worsened further in October, after Tillerson had to address reports that he called the president a "moron" following a meeting of the national security team. The secretary of state denounced the report, although he left it to Nauert to deny it. Afterward, Trump suggested staging an IQ-test contest with Tillerson.
The White House has also grown frustrated with Tillerson's slow pace in filling positions occupied by political appointees at the State Department. Almost 10 months into his tenure, many assistant secretary and ambassador jobs remain unfilled.
Beyond differences with Trump, Tillerson has few other friends in Washington. Members of Congress from both parties and veterans of the foreign service have been alienated by his slow-moving effort to reorganize the State Department and his support for deep cuts in the department's budget.
Nonetheless, in early November, Trump spoke warmly of Tillerson at a breakfast gathering of business leaders at the U.S. ambassador's residence in Tokyo.
"I want to thank Secretary Tillerson -- Rex -- who has done a tremendous job of leading the dedicated men and women of the Department of State here in Japan and around the world," Trump said.
— With assistance by Nafeesa Syeed, Toluse Olorunnipa, and Jennifer Epstein
Before it's here, it's on the Bloomberg Terminal.
LEARN MORE