What Analysts Are Saying About Bank of Korea's Rate Hike
By and
Korean won weakens as much as 1.2%, Kospi index declines

Headwinds including Fed's rate path, U.S. tax reforms cited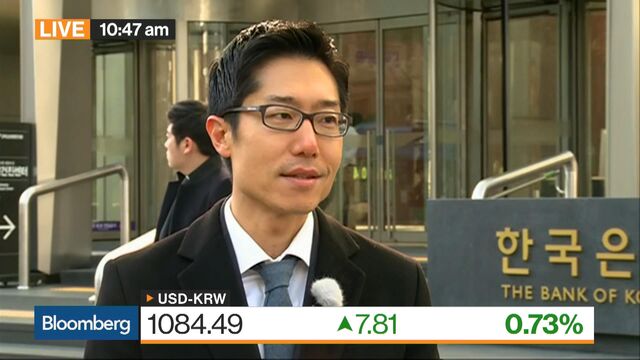 South Korea's won retreated from its highest level in more than two years after the central bank said monetary policy will remain accommodative following its first rate hike since 2011.
Expectations the Bank of Korea will start tightening monetary policy helped boost the won as the biggest gainer among Asian currencies this year. Swaps traders had been pricing in at least two 25-basis-point rate increases in the next 12 months, including Thursday's. The won weakened 1 percent to 1,087.20 per dollar as of 12:16 p.m. in Seoul, while the Kospi index declined 0.6 percent.
Here's what analysts said:
Bank of Singapore Ltd.
Sim Moh Siong, currency strategist in Singapore
Following the correction in the won, currency may consolidate between 1,075-1,095 against the dollar in the next week
Authorities are worried about the won being "too strong" and erode export competitiveness
Market aware of risk of "dovish hike" and that's what's happening as investors have been positioned for a rate hike
BOK's careful interest-rate increase is not perceived to be part of a series of subsequent rate hikes; wants to avoid excessive currency appreciation
FPG Securities Co.
Koji Fukaya, chief executive officer in Tokyo
The currency is seeing a situation like "sell on the fact" following the rate hike
The Federal Reserve is also expected to boost its policy rate, so it's hard to predict the won would keep appreciating one way from here while there's lingering concern about the North Korea situation
"I would expect the won had reached its high yesterday and from here, we may see some downward position adjustment, probably toward 1,100 area"
Based on the fundamental gaps between the U.S. and South Korea and some other factors, the core trading range for the won versus the dollar in 2018 would be around 1,100-1,200; in that sense, the current level is a bit overdone
Skandinaviska Enskilda Banken AB
Sean Yokota, head of Asia strategy in Singapore
BOK's policy tightening may signal the start of a hiking cycle as domestic growth holds up; central bank may deliver two rate hikes next year of 25bps each, with policy makers "keeping up with the neighbors since the Fed and even ECB are becoming more hawkish"
Co. expects dollar-won to drop to 1,080 by end-2017 and 1,060 by end-2018
Limited room seen for won to rise further as China's deleveraging campaign will damp regional currencies
Malayan Banking Bhd
Christopher Wong, senior strategist in Singapore
BOK has room to further tighten monetary policy with growth robust and inflation near its 2 percent target
If demand-induced price pressures accelerate, BOK may deliver another interest-rate increase in 1Q
Won should remain supported as synchronized upturn in global economy and demand for tech products bolster exports
Gradual signs of normalization in relations between China and South Korea will also support outlook
Won may face some headwinds heading into year-end as the dollar could strengthen on U.S. tax reforms and Fed rate hike
— With assistance by Yumi Teso
Quotes from this Article
Before it's here, it's on the Bloomberg Terminal.
LEARN MORE