Venezuela Arrests Former Oil Heads as Maduro Widens Purge
By and
Eulogio Del Pino and Nelson Martinez were detained, Saab says

Arrests extend president's reach into crucial economic sector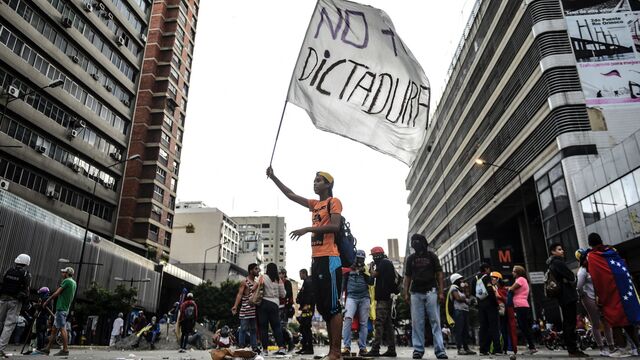 A purge in Venezuela's economically crucial energy establishment reached the top tiers of power as the former heads of the oil ministry and state-run producer PDVSA were accused of corruption and imprisoned.
Nelson Martinez and Eulogio del Pino, who alternated running the agencies, joined 63 other oil-industry managers and officials who have been arrested in recent months, Public Prosecutor Tarek William Saab said in a Caracas news conference Thursday. 
"This sends a clear signal as to which direction the criminal justice system is taking," Saab said. "We're talking about the dismantling of the cartel that was installed in PDVSA."
The moves consolidate President Nicolas Maduro's grip on the oil producer, which is the socialist regime's economic mainstay despite flagging production and quality. Maduro named Major General Manuel Quevedo as the replacement for Martinez and Del Pino on Sunday before the detentions Thursday morning. The military officer, who has no experience in the industry, is representing the nation at an OPEC meeting in Vienna.
In a nation where corruption has been endemic for decades, the veracity of the accusations is difficult to judge. But the arrests further a power struggle within the ruling party as Maduro prepares to run for re-election in 2018. Del Pino, a Stanford graduate, was among the most powerful oil officials over the past two decades along with Rafael Ramirez, the United Nations ambassador, who is also said to be a target of government investigations.
Hunting Scapegoats
The government countenanced corruption all along, said Nelson Hernandez, an oil consultant for Coener.
"What's changed is that the oil money is gone, and now someone has to be blamed," he said. "It's a Soviet-style purge to let another crew come in. The revolution eating its own children."
Videos during the press conference showed armed guards in balaclavas knocking on the officials' doors, taking them from their homes in handcuffs and pajamas. The government will seek to seize the assets of corrupt officials abroad, Saab said, including mansions and yachts. These are preliminary accusations and public prosecutors will now investigate to see whether they'll bring charges, he said.
Maduro has taken sole ownership of politics by installing a supreme body of loyalists that bypasses the National Assembly -- and named Saab as prosecutor. The president's clampdown both cements his power and allows him to paint himself as battling the forces of Yankee imperialism as the heir of the late president Hugo Chavez.
Low Moment
Eurasia Group, a New York political risk consultancy, expects him to announce presidential elections in the first quarter of 2018 and to win them due to divisions within the opposition and control of the levers of the state institutions. But Maduro has seized control of a deeply troubled nation, subject to international sanctions and riven by conflict and hunger as the oil profits remain insufficient.
"It's strange and inexplicable that at the worst moment of PDVSA -- potentially in its entire history -- where it's encountering severe of cash-flow problems and a heavy debt load, you name a military man with no industry experience?" said Henkel Garcia, director of the Caracas consultancy Econometrica. "It casts further doubt on everything."
This month, PDVSA asked employees to halve costs in an austerity drive that reflects the economic crisis. In Vienna, Quevedo reiterated the state producer's plan to service its foreign debt despite delays in getting the cash to bondholders due to U.S. sanctions. While the strategy beggars the nation, it keeps asset-seizing creditors at bay and oil flowing.
"Who will you replace these posts with? You could have a situation where a new group enters that's just as corrupt, but with no industry experience," Henkel said.
Just Beginning
Del Pino is being accused of a corruption scheme at the Petrozamora joint venture between PDVSA and Gazprombank, and for manipulating production numbers. Martinez's arrest is linked to irregular contracts signed while he was the head of Citgo, which is PDVSA's American subsidiary, the prosecutor said.
Maduro and his followers have promoted a hashtag and phrase "Clean Up PDVSA" during the investigations. But analysts were dubious that the campaign means better times are ahead.
"Little by little, this means the end of the business for PDVSA," said Brian McBeth, an independent oil industry consultant from Oxford, England. "Quevedo might be a good manager, but he does not know a thing about the oil business. PDVSA needs investment, and he will not attract new money at all."
For the regime, however, the arrests are just a beginning. Saab said Thursday that after targeting the oil industry, he'll turn his attention to other state institutions.
— With assistance by Patricia Laya
Before it's here, it's on the Bloomberg Terminal.
LEARN MORE