Politics
The CFPB: Center for Partisan Bickering
A fight over who leads the consumer watchdog is only the start of Trump's bid to rein it in.
By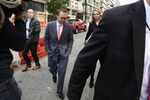 It's a spectacle that perfectly reflects Donald Trump's Washington: Two ostensible agency chiefs show up at work for the same job on the same day, one carrying a bag of doughnuts, the other having just filed for an injunction. As the staff wonders who's in charge, the two keep fighting it out in dueling press events, court hearings, and, of course, Twitter posts. For those familiar with the Consumer Financial Protection Bureau, it was a fittingly partisan episode in what may signal the end of Act 1 for the federal watchdog.
Set up in the aftermath of the financial crisis to police such areas as student loans and subprime mortgages, the CFPB has been a lightning rod since it opened for business six years ago. The political jousting has involved everything from policy issues, such as regulating payday lenders, to more mundane topics, such as the debate over building a waterfall of "naturally split granite" at the agency's headquarters around the corner from the White House. Republican disdain for the CFPB is so deep that lawmakers often call its leader a "dictator."
On the surface, the latest shenanigans are about who will lead the agency until a permanent head is nominated by Trump and confirmed by the Senate. Departing Director Richard Cordray, a Democrat named by President Obama, relied on one law to install his hand-picked successor, Chief of Staff Leandra English. Trump, consulting a different law, named his budget director, Mick Mulvaney. On Nov. 28, a U.S. district judge appointed by Trump ruled in favor of Mulvaney. "Everyone understands this court is not the final stop," English's lawyer, Deepak Gupta, said afterward.

Yet this fight is about much more than a temporary appointment. It's about how vigorously the agency will pursue its mandate under Trump—and whether it will remain an ardent advocate for consumers or be more sympathetic to the concerns of financial companies. Mulvaney, who in his previous job as a congressman was one of the CFPB's toughest critics, signaled major changes on Nov. 27 when he put a 30-day freeze on issuing new rules. "Things are going to be different," he wrote in a memo to staff.
Democrats consider the CFPB the centerpiece of their efforts to rein in Wall Street. Under the 2010 Dodd-Frank Act, it was given a unique set of powers, including the ability to set its own budget. Its director, appointed to a five-year term, can determine policy and approve enforcement cases virtually on his own. Its initial rules targeted the mortgage industry, which helped fuel the financial crisis by making loans to people who lacked the ability to repay them. One regulation required banks to better judge borrowers' financial condition by applying a simple formula that compared their monthly debt payments to their income. Another rule, passed in 2013, ensured that homebuyers were given a plain-English disclosure form laying out the terms of their mortgage.
One of the CFPB's least popular initiatives among financial companies is its consumer complaint database, which collects problems reported by customers and sends them to companies. They become public once the company responds, or after 15 days. The data are searchable and help the agency set enforcement priorities. Complaints prompted investigations into alleged overcharging of active-duty service members on student loans, leading to a $60 million settlement in 2014 between the U.S. Department of Justice and lenders Sallie Mae and Navient Corp.
Republicans and industry complained about the CFPB from the start, claiming its aggressive enforcement actions raised the cost of doing business and limited some consumers' access to credit. Critics also contend it strong-arms companies into settling cases and does too much of its work in secret, ignoring industry input on how to craft regulations. On the left, the CFPB has faced criticism for letting businesses settle cases without admitting or denying wrongdoing.
Whoever ends up running the agency, the era of the CFPB as it's existed for the past six years is over. While little is expected until a full-time director arrives, the Trump transition team proposed several changes during a review after last year's election. Among its recommendations, according to people who've seen them, are a "more transparent and fair" enforcement process, as well as taking steps to put the agency under the congressional appropriations process. The team also suggested shutting down the complaint database until it can be "properly vetted."
The report even considered relocating the CFPB's headquarters. Mulvaney, for one, was a big proponent of the idea, often joking with people on the transition, "I can't wait to sell that building." But cutting the agency's powers won't be easy. Many of its 1,600 employees joined because they believe in its mission of leveling the playing field between Wall Street and the public. And they have civil service protections, meaning they can't be fired without cause.
While Republicans on Capitol Hill generally agree on the need to revamp the CFPB, they're split on how far to go. Some of the most conservative lawmakers, such as House Financial Services Committee Chairman Jeb Hensarling, have called for dismantling the bureau, while others say it could still serve a purpose. "Maybe there's a reason to have them exist, but I think it needs to be looked at," Senator Thom Tillis, a North Carolina Republican, said on Nov. 28 on Bloomberg Television.
Many companies overseen by the CFPB would like it to be led by a five-member commission, a structure that would put it in line with such agencies as the Securities and Exchange Commission. That would take away the director's power to do things by fiat, and it could calm some of the political infighting and lead to fewer episodes like the one after Thanksgiving. "This chaos is a perfect example of why this bureau's structure needs to be changed," says Kate Larson, who focuses on the bureau at the U.S. Chamber of Commerce's Center for Capital Markets Competitiveness. "This shouldn't be the dramatic soap opera that it has been." —With Elizabeth Dexheimer and Shahien Nasiripour
BOTTOM LINE -
Trump's appointment of Mulvaney to run the CFPB signals a major shift in direction for an agency created to curb Wall Street excesses.
Before it's here, it's on the Bloomberg Terminal.
LEARN MORE