politics
Gambling Clash at U.S. Supreme Court Unites Trump and the NFL
By
New Jersey battles sports leagues over casino sports wagering

Constitutional fight poses states-rights issue for high court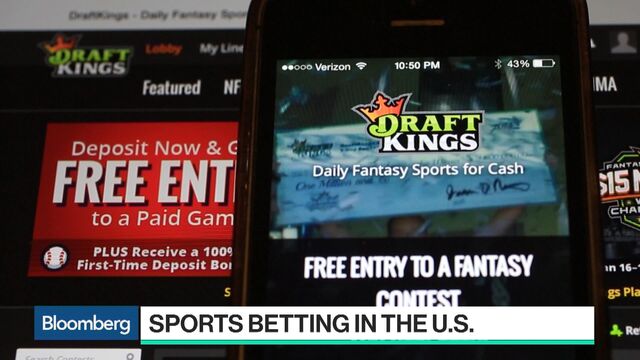 All it took to bring Donald Trump and the National Football League together was New Jersey Governor Chris Christie and his Supreme Court bid to legalize sports gambling.
The NFL, a target of the president's Twitter ire over national anthem protests, is banding together with the administration to fight the outgoing governor in a case the high court will hear Monday.
It's an unusual pairing in a case full of odd alignments and high stakes. New Jersey is seeking to overturn the 1992 federal law that bars single-game sports gambling in every state except Nevada. Should that effort succeed, other states could move quickly to grab part of the $150 billion the casino-backed American Gaming Association says is wagered illegally every year.
"The gold rush is ready to begin," said Daniel Wallach, an expert on sports and gaming law at Becker & Poliakoff in Fort Lauderdale, Florida.
New Jersey wagering advocates say legalization could revitalize Atlantic City, the gambling center where Trump once owned casinos. Among the most ardent proponents is Christie, whose support for Trump during the 2016 presidential campaign was part of an on-again, off-again relationship that almost resulted in a cabinet position.
Also read: Trump's NFL Feud Actually Began 34 Years Ago in Swamps of Jersey
The nation's largest pro sports leagues and the National Collegiate Athletic Association are leading the fight against the state, even as some of them inch closer to embracing gambling themselves. National Basketball Association Commissioner Adam Silver has said that Congress should let states authorize wagering, subject to strict regulation and technical safeguards.
"There is an obvious appetite among sports fans for a safe and legal way to wager on professional sporting events," Silver wrote in the New York Times in 2014.
New Jersey has been trying to legalize sports gambling in its casinos for years, starting with a 2012 law that explicitly authorized wagering. Federal courts struck down that measure as violating the 1992 Professional and Amateur Sport Protection Act, or PASPA. That law says states other than Nevada may not "sponsor, operate, advertise, promote, license or authorize by law or compact" a sports-gambling system.
New Jersey then took a less direct approach by exempting racetracks and Atlantic City casinos from its gambling prohibition but not explicitly authorizing wagering or setting up a new regulatory system. A Philadelphia-based federal appeals court voted 10-2 to strike down that law as well, siding with the leagues and the federal government, then controlled by the Obama administration.
10th Amendment
In their appeal, Christie and other New Jersey officials point to Supreme Court decisions barring the federal government from "commandeering" a state's regulatory power. New Jersey says those rulings, which invoke the Constitution's 10th Amendment, mean the state can't be required to maintain its prohibition on gambling.
"A federal court, purporting to enforce federal law, now is dictating the contents of New Jersey's state law concerning sports wagering," the state argued in court papers.
New Jersey says the state law's opponents conceded during the first round of litigation that the state wouldn't violate PASPA if it simply repealed its gambling prohibition.
But the leagues and Trump administration say that's not what New Jersey did. They call the latest law a selective repeal that legalizes gambling only in highly regulated casinos and racetracks.
"New Jersey wishes to do what PASPA prohibits: to authorize sports gambling at its licensed casinos and racetracks," Trump's solicitor general, Noel Francisco, argued in court papers.
"Congress does not commandeer the states just because it limits their policy options," the leagues argued.
Ideological Divide
The state's contentions are likely to resonate with the court's conservative wing, and the justices could divide along ideological lines. That happened in 1997, when the court struck down a requirement that local law enforcement agencies run background checks on would-be gun buyers. The vote was 5-4, with Anthony Kennedy, the court's most frequent swing justice, in the majority.
The latest case is dividing conservative groups. Some are backing the state and aiming to rein in the federal government while others say state-sponsored sports gambling would lead to crime and threaten the well-being of children.
It's also splitting top lawyers who served in the George W. Bush administration. Ted Olson, Bush's first solicitor general, will argue for Christie. Paul Clement, Olson's successor, will argue for the sports leagues. It will mark the first time the two have ever directly squared off in a Supreme Court argument.
The impact of a New Jersey victory would depend on how broadly the court rules. If the court simply upholds the state's repeal, few states are likely to follow New Jersey's lead, Wallach said.
But if the justices go further and throw out PASPA, 12 to 15 states might authorize sports betting by the end of 2018, he said. Mississippi and Connecticut have already passed legislation that would let them offer sports gambling almost immediately. 
That would leave the leagues even more dependent on Congress to establish federal standards.
"If New Jersey wins the case, particularly if the statute is declared unconstitutional, the leagues will lose a significant amount of leverage," Wallach said. "Once the floodgates open up, it will be difficult to rein that in."
The lead case is Christie v. NCAA, 16-476.
Before it's here, it's on the Bloomberg Terminal.
LEARN MORE