Obama Told Xi He Wants to Help Preserve Ties, State Media Says
Bloomberg News
Former U.S. president's first meeting with Xi after retirement

Obama willing to help strengthen cooperation between countries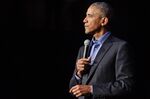 Former U.S. President Barack Obama offered in his first post-retirement meeting with Chinese leader Xi Jinping to help ensure strong ties between the world's two largest economies, Chinese state media said.
The Chinese president told Obama that the two sides shared a wide range of common interests and had a responsibility to maintain world peace and prosperity, the official Xinhua News Agency said. Although Obama met Xi on Wednesday -- part of an itinerary that also includes stops by the former president in India and France -- details were only reported by Chinese state media Thursday.
Obama told Xi that he was willing to play a continued role in strengthening mutual understanding, exchange and cooperation between the two nations, Xinhua said.
Obama was last in China in September 2016 at the G20 in the eastern Chinese city of Hangzhou, where he and Xi formally ratified the Paris climate change agreement. The deal was hailed as a high point for U.S.-China relations and an exemplar of two superpowers collaborating to counter global challenges.
U.S. President Donald Trump announced his decision to withdraw from the Paris accord in June, saying the deal would have killed jobs and hindered the energy and manufacturing industries. The State Department submitted formal notice of withdrawal to the United Nations in August, although leaving the door open for re-engagement if the terms improved for the U.S.
Obama opened his trip Tuesday in Shanghai, where he delivered a speech at an event hosted by business non-profit the Global Alliance of SMEs, which was attended by some 2,500 industry executives, according to the organization's website. He stressed in his speech that China-U.S. relations were the most consequential bilateral ties in the world, and dialogue was the only way to solve disagreements, according to the Shanghai-based news website the Paper.
As part of the three-nation tour, he'll also meet with Indian Prime Minister Narendra Modi.
Obama's office said in a news release Tuesday that the former president had "forged a close and cooperative partnership with President Xi on issues ranging from growing the global economy to combating climate change, and he looks forward to catching up with his former counterpart."
— With assistance by Ting Shi, and Shuping Niu
Before it's here, it's on the Bloomberg Terminal.
LEARN MORE