Matt Lauer's N.Z. Ranch Under the Spotlight Over Harassment Allegations
By
U.S. broadcaster got consent to buy large estate near Wanaka

Foreign buyers of New Zealand land must be of 'good character'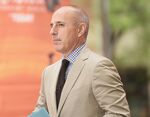 New Zealand is seeking further information about allegations of sexual harassment against U.S. broadcaster Matt Lauer, who owns a large estate on the country's South Island.
The Overseas Investment Office, the government agency that approves sales of land to foreigners, "is aware that allegations have been made in relation to Matt Lauer and that he is no longer working for NBC News," Lisa Barrett, Deputy Chief Executive Policy and Overseas Investment, said in a statement. "We are discussing this with his representative and are seeking further information."
In February, the office granted Lauer's company Orange Lakes (NZ) Ltd. consent to purchase the Crown lease for Hunter Valley Station, a 10,800 hectare (27,000 acre) lake-side farm near Wanaka, a picturesque resort town in the south of the South Island. While financial details of the purchase were not disclosed, local media reported the property is valued at more than NZ$13 million ($9 million).
Under New Zealand law, foreign buyers of sensitive land are required to meet a number of conditions to get consent. They include that the buyers "must continue to be of good character" -- a condition listed in the February notice of the OIO's decision in Lauer's case.
Lauer was this week fired by NBC from his role as co-host on the "Today" show after an accusation of sexual misconduct. NBC said it was informed about inappropriate sexual behavior by Lauer, 59, after a colleague complained, according to a memo from NBC News Chairman Andy Lack that was read on air during the "Today" show on Wednesday.
Before it's here, it's on the Bloomberg Terminal.
LEARN MORE