Kuwait Invites Boycotted Qatar to Attend Gulf Summit Next Week
By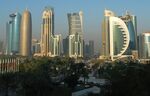 Kuwait's ruler has invited Qatar to attend next week's Gulf Cooperation Council summit, the first official gathering of the bloc since Saudi Arabia and three allies severed ties with Doha in June.
The invitation from Emir Sheikh Sabah Al-Ahmed Al-Sabah was handed to his Qatar counterpart by the Kuwaiti ambassador, state-run Kuwait News Agency reported on Thursday. The summit is scheduled to be held in Kuwait, which has attempted to mediate the dispute, on Dec. 5-6.
Saudi Arabia along with the United Arab Emirates, Bahrain and Egypt cut diplomatic and transport links with Qatar, accusing it of funding extremism and criticizing its ties with Shiite-led Iran. Doha has repeatedly denied the allegations. The spat broke out shortly after President Donald Trump visited Saudi Arabia in May, where he called for concerted action against terrorism and accused Iran, Riyadh's chief region foe, of fueling instability.
The grouping handed Doha, the world's biggest exporter of liquefied natural gas, a list of 13 demands to resolve the crisis, including shutting down Al Jazeera television, refraining from backing Islamist groups and scaling back relations with Tehran. Qatari officials said the demands were designed to be rejected.
Before it's here, it's on the Bloomberg Terminal.
LEARN MORE