Kuroda Gives Japan's Long-Suffering Bond Traders 2018 Hope
By
Some see potential template for a tweak in yield-curve policy

Higher yields would allow greater trading opportunities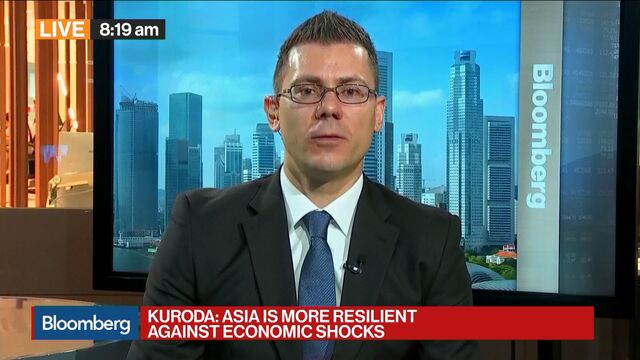 Pity Japan's bond dealers. While their peers the world over have had to contend with the big-foot presence of central banks over much of the past decade, they're alone in having policy makers dictate the yield curve to them.
That's why a couple of throwaway lines from Bank of Japan Governor Haruhiko Kuroda in a Zurich speech last month has brought some cheer to Japanese government bond market players keen to close the books on 2017. It's poised to become the first full year of yield-curve control, with the BOJ setting a zero percent target for rates on 10-year notes.

Kuroda's mention of the "reversal rate" theory, which says that excessively low rates can damage the banking industry and undermine monetary easing, is what's got many excited. The thinking is that, even though the BOJ is probably years away from reaching its 2 percent inflation target, there could be a move to allow higher bond yields if policy makers decided that bank lending was getting hurt.
"The BOJ may have begun testing waters" with the concept, said Nobuyasu Atago, chief economist at Okasan Securities Co. in Tokyo, and a former BOJ official. "The BOJ likely wants to sound out markets first when it moves to adjust something -- so that a change can be priced in gradually."

At the moment, inflation data offer little support for an immediate policy tweak. Core consumer prices rose just 0.8 percent in October from a year ago.
Asked about his Zurich comments during an appearance at parliament in Tokyo Nov. 28, Kuroda highlighted that the theory doesn't apply to Japan's current situation, as he also said in the Nov. 13 remarks. In his speech, he said "because the impact of the low interest rate environment on financial institutions' soundness is cumulative, the bank will continue to pay attention to this risk as well."
The language amounts to a recognition of negative side effects from the current policy, according to fund mangers from Sumitomo Mitsui Asset Management Co. and Mitsubishi UFJ Kokusai Asset Management Co. Yasunobu Katsuki, a senior primary analyst at Mizuho Securities Co., said the construct could be used in the future as an "excuse" for the BOJ to review its unprecedented yield-curve control policy.
"I don't think there is any policy implication at this point and it's not the start of a process of paving the way for any change," said Jun Fukashiro, senior fund manager at Sumitomo Mitsui Asset Management. "The point is that the BOJ is finally coming to terms with the demerit of its policy. It's a message from the BOJ that it is aware and is paying attention."
Negative Effects
It's not the first time Kuroda has alluded to risk of harm to the banking system. Policy makers' introduction of a negative short-term policy rate in early 2016 stoked a firestorm of criticism, including from bankers. By September that year, he and a top deputy noted the potential for excessively low long-term rates to damage confidence in the financial sector.
While bank lending continues to expand in Japan, there have been consequences of very low yields. Government bonds with maturities out to nearly eight years yield less than zero. That's become a particular issue for regional banks, which face fading demands for credit from areas blighted by contracting populations, and spurred them into riskier investments overseas. In a semi-annual report in October, the BOJ pointed to the danger of these lenders facing prolonged "chronic stresses."
If the BOJ did conclude that damage to the banking system from prolonged ultra-low yields was counterproductive to reaching its 2 percent inflation objective, the "reversal rate" concept could be an option to explain a boost in yield targets. Now that it's been floated, it gives Kuroda -- or potentially his successor if he's not reappointed when his term ends in April -- the ability to prepare observers by highlighting any future banking-industry worries.
"The BOJ may have begun signaling markets to keep in mind a possible tweak" in 2018, said Akio Kato, general manager of trading at Mitsubishi UFJ Kokusai Asset Management. "Since it's difficult to change the inflation target, the second best option would be to raise the 10-year target from zero and slightly steepen the curve to help ease the negative impact on financial institutions."
Quotes from this Article
Before it's here, it's on the Bloomberg Terminal.
LEARN MORE