Japan's Inflation Edges Higher But Remains Far From Target
By
The BOJ is targeting stable 2 percent price increases

Prices may start to hit a peak around year-end: Dai-ichi Life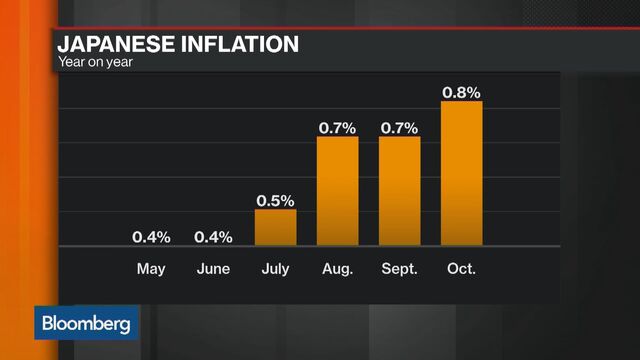 Japanese inflation sped up in October but price rises are still less than half the central bank's target, despite the tightest labor market in decades.
Highlights of the Data
Core consumer prices, which exclude fresh food, increased 0.8 percent in October from a year earlier (estimate +0.8 percent).
The unemployment rate remained at 2.8 percent (estimate 2.8 percent).
Household spending was unchanged from a year ago (estimate -0.3 percent).
The job-to-applicant ratio rose to 1.55 (estimate 1.52), the highest since the mid-1970s.
Capital expenditure rose 4.2 percent in the third quarter from a year earlier (forecast +3.2%).
Key Takeaways
In the almost five years since Shinzo Abe returned to power promising an end to Japan's deflationary malaise, the economy has returned to healthy growth but inflation has remained stubbornly below the target set by the Bank of Japan. One reason is that while the labor market is tighter than it has been in decades, that hasn't translated into a strong rise in wages, meaning households have kept a tight rein on their spending.

Economist Views
Core CPI will "hit the 1 percent wall" as it's likely that the rise in energy prices will peak, said Hiroaki Muto, chief economist at Tokai Tokyo Research Center in Tokyo. "Consumer prices move in tandem with service costs, so unless those rise, it's difficult for prices to also increase."
"The working age population is declining while the economy is growing, so it's inevitable that the labor market is getting tighter. In areas such as health care, welfare and elderly care the jobs aren't being filled and the supply and demand gap is continuing to widen," Muto said.
"The U.S. economy is picking up, prompting Japanese companies to do capital investment that they'd been holding back on. That investment will continue to be strong until the first half of next year or so," said Masaki Kuwahara, senior economist at Nomura Securities.
Bloomberg Economics' View
"Japan's labor shortage intensified in October, extending a trend that should drive stronger growth in wages and consumer spending. The trouble though, is that a lack of mobility in the job market is hindering that process."
"Bloomberg Economics remains cautiously optimistic that the key mechanism driving reflation -- a positive output gap -- will support inflation, though a strong pickup from current levels near term is unlikely."
"The onus remains on Prime Minister Shinzo Abe to deliver on promised structural reforms, particularly those aimed at making the job market more fluid."
For more from Yuki Masujima, see the report.
Other Details
Overall, nationwide prices rose 0.2 percent in October (estimate +0.2 percent).
Excluding fresh food and energy, prices gained 0.2 percent (estimate +0.2 percent).
Capital spending minus software advanced 4.3 percent (forecast +3.1%).
Corporate profits climbed 5.5 percent (forecast 18.4%).
Company sales increased 4.8 percent.
— With assistance by Isaac Aquino
Before it's here, it's on the Bloomberg Terminal.
LEARN MORE