In Venezuela, the Dollar's Gained 10,768% in Just the Last Two Years
By and
Its local trading pair, the bolivar, has collapsed amid crisis

Unusual method needed to measure magnitude of currency move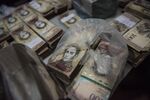 The speed at which the Venezuelan bolivar is sinking against the dollar is hard to fathom.
It's one of those rare market moves that's so crazy that analyzing it from the perspective of the declining currency feels inadequate. That's because the value of a currency, of course, can't fall more than 99.99 percent.
Gains, on the other hand, are infinite. And so it's more illuminating to examine the move from the angle of the dollar's advance against the bolivar.
In the black market -- the place where most Venezuelans acquire dollars in the authoritarian country -- the U.S. currency has risen 135 percent this month alone, according to dolartoday.com, the go-to site for pricing. So far this year, it's up 2,959 percent. And over the past two years, it's climbed 10,768 percent. For some context, bitcoin, the cryptocurrency whose rally has mesmerized investors the world over, is up about 2,500 percent over that time. (That advance, it should be noted, is against the dollar, meaning bitcoin's rally versus the bolivar is astronomical.)
Venezuela's finances and economy crumbled long ago under the strain of the government's socialist policies. But the hyperinflation spiral intensified after President Nicolas Maduro ratcheted up spending -- and financed it by cranking up the central bank printing presses -- to curry favor in the run-up to this year's controversial vote on whether to install a constituent assembly and further tighten his grip on power. Maduro's plan, unveiled earlier this month, to restructure the country's foreign debt only added to the jitters and sense of chaos on the ground in Caracas.

The bolivar traded at 96,794 per dollar as of late Wednesday, according to dolartoday.com. It had started the week at 82,186 per dollar and hovered under 10,000 per dollars as recently as late July. (The official government-set exchange rate, a largely irrelevant number at this point, is 10 bolivars per dollar.)
The situation has become so out of control that some within Maduro's constituent assembly -- including a former trade and investment minister -- have even begun talking about something that's long been taboo for them: the idea of re-implementing some free-market policies.
Before it's here, it's on the Bloomberg Terminal.
LEARN MORE