House Plans Two-Week Spending Bill to Avoid Shutdown
By and
Measure unlikely to include new aid for hurricane-struck areas

Current government funding set to run out after Dec. 8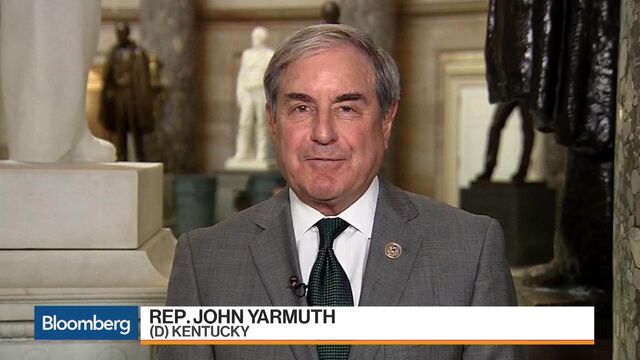 House Republican leaders plan to seek a two-week spending bill to fund the government until Dec. 22 and avoid a shutdown next week, a GOP member and aides said Thursday. That will provide more time for negotiations with Democrats on a longer-term funding plan.
The plan hasn't been finalized and will be discussed at a House GOP meeting Friday, said Representative Tom Cole of Oklahoma. Current funding is set to run out after Dec. 8.
Cole and two senior House aides said the stopgap bill is unlikely to contain any extraneous provisions, such as new hurricane-recovery aid for Texas, Florida and Puerto Rico. House Speaker Paul Ryan of Wisconsin said Thursday a disaster aid request almost certainly wouldn't be ready in time for the spending bill.
Second-ranking Senate Republican John Cornyn of Texas said Congress needs to provide additional disaster funds in December.
"While we're fiddling people are out of their homes," Cornyn said. "We've been put off time and time and time again. Just wait, wait, wait. Now they're asking us to wait again. That's unacceptable."
Obamacare Markets

Senator Susan Collins, a Maine Republican, is also insisting that the stopgap spending bill contain a plan to stabilize Obamacare insurance markets. She wants that provision to be signed into law before Congress enacts its massive tax-cut plan, which would repeal Obamacare's requirement that most people have health insurance or pay a penalty.
But Representative Mark Walker of North Carolina, leader of the conservative Republican Study Committee, said adding the Obamacare provision to the spending bill "probably would run into some issues over here" in the House.
The spending bill is among a number of issues lawmakers are racing to wrap up before the end of the year. As the brink of a government shutdown gets closer, Democrats have leverage for their end-of-year priorities because their votes are needed in the Senate to advance a spending bill.
Among other things, Democrats insist that by the end of the year Congress must provide permanent legal status for undocumented immigrants brought to the U.S. as children. Republicans are contemplating funding for President Donald Trump's border wall, which Democrats oppose.
Even with an extra two weeks to negotiate, it's unclear that Congress can come to terms on a trillion-dollar, all-encompassing spending package by the time lawmakers are scheduled to take their Christmas break. This means they may have to do a second stopgap measure in December to push the deadline off until January, according to a Republican member who discussed the issue with leadership.
Military Spending
The reason why GOP leaders are discussing a two-week spending bill is because they're getting complaints from some members who want longer-term funding at a higher level for the military as soon as possible, the GOP member said.
Ryan is discussing with Defense Secretary James Mattis whether financial maneuvers can be used to ensure the Defense Department gets the funding it needs, which may persuade those lawmakers to go along with a spending bill that would run through January, the member said.
Democrats would have more leverage if the stopgap measure runs out in December because they would have a harder deadline to make stronger demands, the GOP member said. In addition, conference committee talks over the tax bill could still be in play, the member said.
The Congressional Budget Office said Thursday that Congress can put off another major issue -- the need to raise the federal debt limit -- until after January. The CBO said the Treasury will likely hit the federal debt limit by late March or early April if Congress doesn't act to raise the debt ceiling.
Before it's here, it's on the Bloomberg Terminal.
LEARN MORE