German SPD Prods Wary Members Toward Coalition With Merkel
By and
Chancellor, defeated SPD challenger Schulz to meet Thursday

Social Democrats seek convention vote to back government role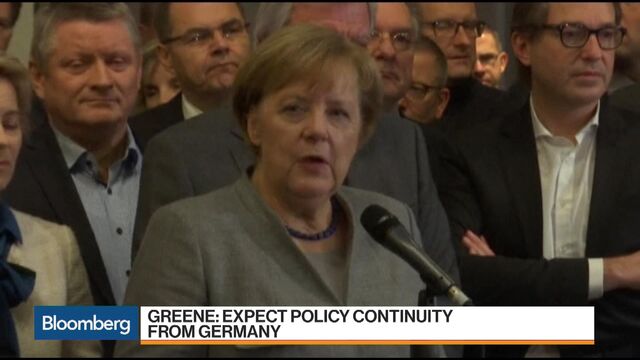 Germany's Social Democrats are laying the groundwork for a renewed alliance with Angela Merkel, preparing skeptical party members for a rerun of her "grand coalition" that governed Europe's biggest economy for the last four years.
Almost 10 weeks after the party's electoral defeat, SPD chiefs have drafted a motion for a Dec. 7-9 convention that would give the leadership a mandate to hold talks with Merkel's Christian Democratic-led bloc, according to a party official who asked not to be identified since the document isn't public. While the motion leaves the outcome of such negotiations open, it sends a signal of willingness among party leaders to reconsider their post-election decision to quit government and enter opposition.
For an interactive guide on Merkel's coalition options, click here.
The change of heart adds significance to a meeting to be held in Berlin on Thursday between Merkel, SPD chairman Martin Schulz and Bavarian premier Horst Seehofer, the head of Merkel's CSU sister party. Hosted by President Frank-Walter Steinmeier, an SPD member who served as foreign minister in Merkel's first and third terms, the evening encounter will be the first direct talks on the way forward after Merkel's attempts to form an unprecedented four-way coalition to govern Germany fell apart last week.
"All options are currently on the table for us," Thorsten Schaefer-Guembel, an SPD executive board member, said on Deutschlandfunk radio.
Further signs of flexibility appear in a separate resolution prepared for next week's SPD convention which drops all references to the Social Democrats adopting the role of lead opposition party, a stance that Schulz embraced after September's historic election defeat and renewed as recently as 10 days ago. With the president and business groups both urging political leaders to form a government, Schulz gave the clearest signal yet that he's now ready to risk party members' displeasure and engage with Merkel.
"We need reliability and stability," Schulz told a meeting of the BGA employer federation on Wednesday, saying his party was "aware of its responsibility."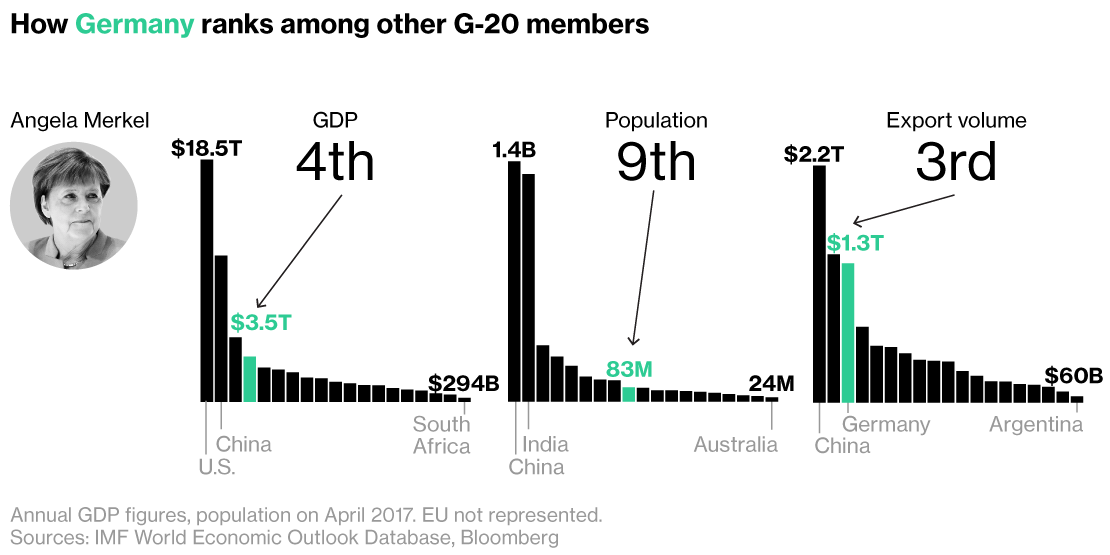 Pressure swung to Germany's second-biggest party after Merkel's coalition talks with the pro-market Free Democrats and the Green party collapsed in acrimony on Nov. 19. While the SPD has been Merkel's junior partner for eight of her 12 years in office, many members blame her embrace for sending the party to its lowest share of the vote since World War II.
Critics within Merkel's Christian Democratic Union also are skeptical, suggesting she govern without a fixed majority in parliament rather than commit to a coalition pact. A new tie-up with the SPD would require "unaffordable promises of social benefits," the CDU's business council, a pro-market faction that has criticized her for years, said in a statement.
Even so, another grand coalition "now seems to be the most likely outcome of Germany's political turmoil," Holger Schmieding, chief economist at Berenberg bank, said this week in a note to clients.
How Schulz and fellow SPD leaders package their message to the rank-and-file at the Berlin convention will be crucial. If delegates approve negotiations with Merkel, any coalition pact also would be put to an SPD membership vote before a government could take office.

Only 36 percent of SPD members back a rerun of the four-year-old grand coalition, though even fewer, 13 percent, support holding a new election, according to a Forsa poll published Wednesday. A Merkel-SPD alliance is more popular among the general public, with 40 percent in favor, according to Forsa.
Extended Timeline
The numbers suggest bringing the Social Democratic base around will one of the most significant hurdles to forming a new government and is sure to be time-consuming. Next week's convention will be the staging point, with the party expected to confirm Schulz's leadership and approve coalition talks, which may well drag on into next year.
Schulz offered a sample of what direction a new alliance with Merkel could take, calling on her to back expanded cooperation in the euro area. The SPD leader said he favors creating a euro-area budget to promote investment, a joint finance minister to curb tax competition among member countries and a "European framework for minimum wages."
"On the road to a new government, we need answers on what we can do to make Germany fit for the years ahead," Deputy Finance Minister Jens Spahn, a member of Merkel's CDU, said in an interview. "If the SPD is ready to talk about concrete solutions, we can move forward."
— With assistance by Chad Thomas, Arne Delfs, and James Regan
Before it's here, it's on the Bloomberg Terminal.
LEARN MORE