France Calls for Sanctions to Stop North Korea's Missile Program
By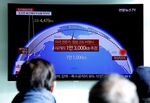 French Defense Minister Florence Parly said further sanctions are needed to rein in North Korea's ballistics program which is "progressing and progressing fast."
"This summer, we thought we weren't in range," Parly said on BFM TV. "Now it seems that very few western cities aren't."
The U.S. demanded Wednesday that China cut off all oil exports to North Korea after Pyongyang said the latest test showed its intercontinental ballistic missiles could now reach anywhere in the U.S.
"We've asked for heavier sanctions," Parly said. "Everyone must apply these sanctions, China and Russia for sure. The only solution is diplomatic, and it must be done from a position of strength."
Before it's here, it's on the Bloomberg Terminal.
LEARN MORE