Two Women Named to Lead One of World's Top Iron Ore Miners
By and
CFO Gaines to step up to CEO; Shuttleworth becomes Deputy CEO

Lilleyman promoted to chief operating officer under revamp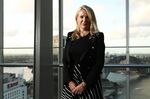 Billionaire mining magnate Andrew Forrest named two female executives to head the management team of Fortescue Metals Group Ltd., the company he founded and built into the world's fourth-biggest iron ore exporter.
Elizabeth Gaines will take over as chief executive officer, the Perth-based company said in a statement on Thursday. Gaines, who's been chief financial officer for the past nine months, will succeed Nev Power, who steps down in February, while Julie Shuttleworth will become her deputy. Greg Lilleyman moves up to chief operating officer from director of operations.
Gaines will take the reins as Fortescue seeks to navigate the shifting tides of China's steel and iron industry, where a government-led drive to clean up its environment has prompted mills to increasingly shun lower-grade ores, including those mined by the Australian producer. She'll oversee a change in marketing focus at the company, which is targeting an iron content greater than 60 percent for the majority of its output, according to Forrest.
"Clearly Gaines as a financial person in the CEO role for the first time tells you there is a different focus," said Peter O'Connor, an analyst with Shaw and Partners Ltd. "Gaines will look at the capital structure of debt and equity, capital returns and also growth. Does that mean M&A?"
'Best People'
The company said it's creating a new core leadership team, which comprises Gaines, Shuttleworth, Lilleyman and new CFO Ian Wells. The transition is expected to be complete early in the new year.
"Julie and Elizabeth are a really phenomenal team, one which we didn't think we could replace anywhere," Forrest said on a conference call. "The best people were appointed to these four positions, regardless of gender.''
Fortescue produces material with an average of about 58 percent iron content. Its larger rivals in Australia, BHP Billiton Ltd. and Rio Tinto Group, tend to produce ore with over 60 percent content. Top shipper Vale SA is bringing on supply from its S11D project in Brazil, which yields ore of about 67 percent content.
Fortescue's stock fell 0.4 percent to end at A$4.60 in Sydney amid a broad decline in Australian equities, with BHP and Rio both dropping more than 1 percent. So far this year, Fortescue has fallen more than 20 percent.
Gaines joined Fortescue as its first female board member in 2013. Back then, Forrest said the company would strive to appoint more women directors, adding that it'd be on merit. Gaines is a chartered accountant, a former CEO of Helloworld Travel Ltd. and has held various finance roles in her career.
"The direction we've been on for the last five years I've been part of, so I don't see this as a significant detour," Gaines said. "Clearly my priorities are to work closely with Nev to ensure a very smooth transition as to get as much out of him as I possibly can and to work with this team."
— With assistance by Perry Williams
Before it's here, it's on the Bloomberg Terminal.
LEARN MORE