Finland's President Has an 80% Approval Rating
By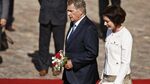 Finland's president has reached popularity ratings worthy of Vladimir Putin.
With just two months to go before the Nordic country's presidential election, 80 percent of respondents in a poll published Thursday by state-owned broadcaster Yle say they want Sauli Niinisto to stay in office for a second term.
The 69-year-old, who received 62.6 percent of the popular vote in the second round of the 2012 election, appears all but assured of staying for six more years in the job: His nearest rival in the January 28 ballot, Pekka Haavisto of the Greens, is on 10 percent in the Yle poll.
"He's been able to portray his personal life in a touching and intimate way," said Mari K Niemi, a senior researcher at University of Turku.
A survivor of the 2004 tsunami, Niinisto made the news recently with the announcement that his 40-year-old wife is expecting a child.
While the Finnish president is mainly a figurehead and has only limited influence on domestic policy, Niemi said voters appreciate his diplomacy toward Russia. Niinisto is seen as one of the most active Western leaders in engaging with Moscow.
Before it's here, it's on the Bloomberg Terminal.
LEARN MORE