Ex-Louisville Coach Rick Pitino Sues University Over Firing
By
Pitino says he played no part in paying players and families

Hall of Fame coach is seeking balance of pay from contract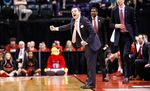 Former University of Louisville men's basketball coach Rick Pitino said he sued the school over his firing in the wake of a bribery scandal, claiming he had never tried to pay recruits or their families to get them to play for him.
Federal prosecutors in New York in September unveiled charges against assistant coaches, managers, financial advisers and sportswear company executives as part of a wide-ranging corruption probe into college athletics, including the Louisville basketball program. Pitino, a Hall of Fame coach who won National Collegiate Athletic Association titles at the University of Kentucky and Louisville, wasn't charged but he was suspended by the school and fired the following month.
Pitino said in a statement Thursday that he filed the suit in federal court in Louisville against the arm of the university that operates the intercollegiate athletic program. He claims the school breached his employment contract by placing him on indefinite leave, locking him out of his office, relieving him of his duties and blocking access to email without giving him the required 10-day notice. The complaint couldn't be immediately verified in court records.
Pitino said the school had no valid reason to fire him. He is seeking the balance of his contract, which amounts to about $4.3 million a year through June 2026. He was one of college basketball's highest-paid coaches.
The university is aware of the lawsuit but as a matter of policy doesn't comment on pending litigation, John Karman, a spokesman for the school, said in an email.
The government's case is built in part on allegations that an Adidas AG executive bribed students -- and their families -- to attend universities where the company sponsored athletic programs. Pitino said he believes he's referred to as 'Coach-2" in the U.S. complaint -- a person who allegedly carried a lot of clout with Adidas and could get his guys taken care of.
Ex-Louisville Hoops Coach Sues Adidas Over Recruit Scandal
Pitino, who had a separate contract with Adidas, sued the company in October, claiming wasn't aware the sportswear maker allegedly funneled money the family of a recruit as prosecutors said. Adidas, which had cut its ties to Pitino two days before he sued, rejected the accusation saying Pitino's lawsuit was "clearly a reaction to his termination."
Pitino said he fully implemented all suggestions made by the school's former athletic director and its interim president made in the wake of an escort scandal involving Louisville players and recruits that led to the coach's suspension by the NCAA in June.
"He diligently supervised his staff and insisted on their compliance with the rules," Pitino's lawyer Steve Pence said in a statement. "He routinely drilled compliance into his coaches and assistants at meetings. He thus did everything reasonably possible to maximize his diligent supervision of assistant coaches and staff."
The case is Pitino v. University of Louisville Athletic Association Inc., U.S. District Court, Western District of Kentucky (Louisville).
— With assistance by Eben Novy-Williams
Before it's here, it's on the Bloomberg Terminal.
LEARN MORE