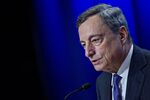 The European Central Bank is adamant that interest rates won't increase until "well past the horizon of our net asset purchases." Its more hawkish policy makers are adamant that the bond buying will stop in September. So, with the euro zone economy booming, the stage is set for a fight over borrowing costs that should give bond investors pause for thought.
Since March 2015, more than 1.8 trillion euros ($2.1 trillion) of bonds have been taken out of market circulation, boosting the ECB's balance sheet to almost 4.5 trillion euros. It now holds more than a quarter of all eligible outstanding issues. The effect on yields has been remorseless.

From January, the monthly pace of QE buying will halve to 30 billion euros. And at least six of the ECB's 25 policy makers -- Jens Weidmann, Benoit Coeure, Sabine Lautenschlaeger, Ewald Nowotny, Ardo Hansson and Klaas Knot -- have suggested bond purchases shouldn't be extended past the current deadline of September.
Earlier this month, Coeure called the economic recovery in the euro zone the strongest "in almost 20 years."

Once QE is halted, the ECB is free to raise rates according to the policy sequence it's laid out in its so-called forward guidance. Questions then arise: (a) is it bound by the commitment to keep rates at present levels "well past the horizon of our net asset purchases," a pledge President Mario Draghi reiterated at the last press conference, and (b) even if it is, how many months counts as "well past" that end date?

The benchmark overnight rate in the euro area is EONIA, a weighted average index of trading in unsecured overnight money. It hugs the ECB's deposit rate, which is the fixed rate the ECB charges for commercial banks to place money with the central bank. Looking at where the market expects EONIA to be in the months of ECB rate decision meetings next year, no increase is currently anticipated through 2018.
September is ten long data-packed months away. If the facts change and inflation does start to move toward the target, there's nothing that says bond buying couldn't be scaled back even further, or even ended earlier than is currently planned -- putting a potential rate hike on the agenda before the end of next year.
Missing from the party thus far is inflation. But figures Thursday showed consumer prices rising by 1.5 percent this month -- still below the ECB's 2 percent target, but heading in the right direction and up from a five-year average of 0.7 percent.

Analysts are currently sanguine about the outlook for bond yields next year.

But European bonds may be cruising for a bruising. Witness the sharp jump in two-year Treasury yields that's accompanied the Federal Reserve's change of policy direction.

It's worth noting that central banks can surprise on the way to higher rates as well as lower rates -- witness the Bank of England's sudden change of direction earlier this year that caught economists off guard.
Now, the ECB is not going to replicate the Fed tightening that's seen it raise borrowing costs to 1.25 percent from 0.25 percent in the past couple of years, with another hike likely next month. But bondholders banking on there being absolutely no chance of a rate increase in 2018 to upset euro zone bonds might want to think again.
Before it's here, it's on the Bloomberg Terminal.
LEARN MORE