London Mayor: Trump Not Welcome After Retweeting 'Vile' Group
By and
May Urged to Cancel Proposed State Visit Hosted by Queen

U.K Lawmakers Call on Trump to Delete His Twitter Account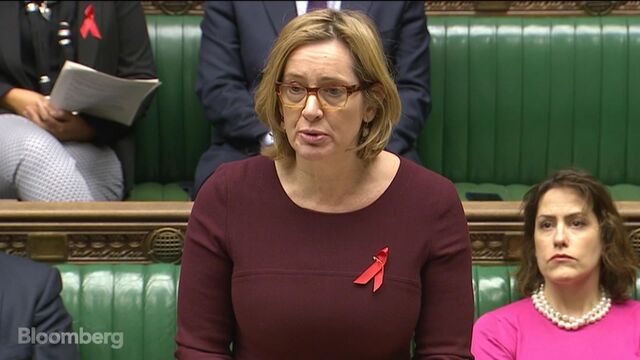 Donald Trump is persona non grata in Britain.
Ever since Theresa May extended an invitation to the president to come visit the Queen, he has rankled the nation with his off-the-cuff comments about terror attacks in Britain and now with his latest provocation: the sharing of far-right videos and the lashing out against the prime minister for telling him he was wrong.
"I have previously called on Theresa May to cancel her ill-judged offer of a state visit to President Trump," London Mayor Sadiq Khan said in a statement released by office. "After this latest incident, it is increasingly clear that any official visit at all from President Trump to Britain would not be welcomed."
Muslim and Proud, London Mayor Won't Be Cowed by Trump or Terror
As far back as January, an online petition calling for Trump to be prevented from making an official state visit had shot past 1 million signatures. The topic is a tricky one for May -- who needs to maintain the veneer of a "special relationship" with a historic ally whose leader is unpredictable and has put her in awkward diplomatic situations. She also needs to find new trading partners as the U.K. heads towards leaving the European Union.
Acrimonious History
Trump and Khan have history. It began after the terror attacks on London Bridge when the president criticized Khan's response: "Pathetic excuse by London Mayor Sadiq Khan who had to think fast on his 'no reason to be alarmed' statement," the president tweeted.
On Wednesday Trump re-tweeted three videos posted by Britain First, purporting to show violence from Muslims. The U.K.-based group, which grew out of anti-immigrant movements including the all-white British National Party, opposes "the colonization of our homeland through immigration."
Its leader Paul Golding stood against Khan in the 2016 London Mayoral election. Golding, who got 31,372 first preference votes compared to more than a million for Khan, turned his back as Khan made his acceptance speech.
In London, May's spokesman James Slack told reporters: "where Islamist extremism does exist, it should be tackled head on. We're working hard to do that, both at home and internationally, including with our US partners." Slack repeated that Trump had been "wrong" to promote the videos.
Commons Outraged
Trump's support of Britain First and his direct criticism of May via Twitter have enraged U.K lawmakers. In Parliament in London Thursday lawmakers united to condemn him, calling on Home Secretary Amber Rudd to cancel the proposed state visit and urging the U.S. president to delete his Twitter account. Rudd was speaking as May traveled in the Middle East.
Labour's Stephen Doughty on Trump: "by sharing it he is either a racist, incompetent or unthinking or all three." Conservative lawmaker Tim Loughton said Twitter should take down the account of "the first citizen of the United States."
Luciana Berger, a Labour lawmaker who has suffered anti-semitic abuse on Twitter, said "Donald Trump is now actively sowing seeds of hatred in our country" and her colleague Paul Flynn said "if he comes to this country, Trump should be treated like anyone else who breaks the law and "charged with inciting racial hatred."
Rudd said that while "many shared" the view that Trump should delete his Twitter account, she was careful to distinguish between the holder of the office and Britain's relationship with its historical ally, the U.S.
She repeated the government's insistence that the invitation to Trump had been extended and accepted: "We must remember that the United States itself has such an important relationship with this country in terms of keeping us safe as well."
She is also called on social media companies such as Twitter to do more to tackle extremism and hate-speech online.
— With assistance by Tim Ross, and Alex Morales
Before it's here, it's on the Bloomberg Terminal.
LEARN MORE