Blue Apron CEO Salzberg Steps Down, to Be Replaced by CFO
By
New CEO to handle day-to-day operations and focus on margins

Salzberg will stay involved and map out long-term strategy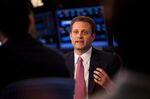 Blue Apron Holdings Inc. Chief Executive Officer and co-founder Matt Salzberg stepped down from the top role after the meal-kit company suffered production problems and projected slower sales growth.
Chief Financial Officer Brad Dickerson will replace Salzberg, who will continue as executive chairman, the New York-based company said Thursday in a statement. Blue Apron has begun a search for a new CFO. Shares rose 2 percent to $3.03 in extended trading.
The new CEO will take over day-to-day operations, focusing on improving profitability. Salzberg's move lets him focus on Blue Apron's long-term strategy, a decision the board agreed with unanimously, Dickerson said in a phone interview.
"We still have the ability to drive much more efficient margins going forward, and that gives us more ability to spend more money on things like marketing," Dickerson said. "Margin is really the key to unlocking the future, both for near-term and long-term success."
Salzberg's departure follows other shakeups since the beleaguered meal-kit seller went public. The stock is down about 70 percent since its June initial public offering. Blue Apron cut 6 percent of its workforce last month, after instituting a hiring freeze in August. Executives including co-founder Matt Wadiak and one of its earliest employees, Melody Koh, also left in recent months. 
Blue Apron is now valued at $569 million. Rival meal-kit delivery firm Plated was acquired in September by Albertsons Cos. for roughly $200 million. When asked if Blue Apron would still be independent in 12 months, Dickerson said the company isn't focused on those things.
The company has also been plagued by issues at its newest fulfillment center in Linden, New Jersey. The opening of the facility was delayed, and Blue Apron didn't get production volumes up to expected levels fast enough. As a result, the quality of the product declined, resulting in problems with ingredients and on-time deliveries. The company has also said Linden cost more than expected and had the worst margins of its centers.
"While our public market performance has fallen short of my expectations, I believe it is primarily because of the near-term challenges and uncertainty created with the launch of our Linden fulfillment center," Salzberg wrote in a letter to employees Thursday. Blue Apron completed transitioning production volumes to Linden less than two months ago, and "margins since the end of the third quarter have significantly improved," he said.
Dickerson said he will focus on improving profitability by reducing food-related costs, improving recipe and labor planning, and execution and discipline in fulfillment centers.
Though Salzberg will no longer be CEO, he still has a significant stake in the company. As of the completion of the IPO, Salzberg held 29.2 percent of the voting power, according to a November quarterly filing.
— With assistance by Alex Barinka
Quotes from this Article
Before it's here, it's on the Bloomberg Terminal.
LEARN MORE