Wrangler Drops 200 Pounds as Iconic Jeep Model Gets Leaner
By
SUV using high-strength aluminum, magnesium to slim down

Mild-hybrid, diesel and plug-in versions are ahead for the SUV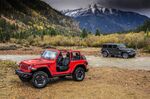 The biggest challenge for the Jeep Wrangler isn't demand from consumers, but demands from regulators. Boxy and brawny, the iconic sport utility vehicle's design tenets are tough to square with the upcoming era of stiffer fuel-economy rules.
Enter the new 2018 Wrangler, which shed 200 pounds from its predecessor by switching to lighter aluminum doors, fenders and other body parts and a magnesium rear gate. The lower weight helps boost fuel economy more than 10 percent, securing the model's future on America's roadways for at least a few more years.
The next-generation Wrangler revealed Wednesday at the Los Angeles Auto Show has to walk a fine line, appeasing four-wheel fanatic fans of Jeep's most rugged offering while also meeting the regulatory realities looming over the industry. While President Donald Trump's regulators are now reviewing just how strict vehicle efficiency standards should be, fuel-economy rules are toughening in the years ahead, and Jeep owner Fiat Chrysler Automobiles NV doesn't want its money-minting Wrangler to be sidelined for doing too much gas guzzling.

Jeep is bringing fresh powertrains to the table that render the Wrangler a little less fuel thirsty. To start, an upgraded 3.6-liter V-6 Pentastar engine will deliver 285 horsepower and 260 pound-feet of torque. Starting in 2019, the model will offer more fuel-efficient options: a 3.0-liter diesel and a 2.0-liter, turbocharged four cylinder with eTorque, Fiat Chrysler's first mild hybrid to go into mass production.
The carmaker will also introduce a plug-in hybrid Wrangler in 2022, brand chief Mike Manley told reporters at the show.
Less Gasoline
With a more aerodynamic design and the weight loss, the Wrangler will rise to 20 miles per gallon in combined highway and city driving with an automatic transmission, up from 18 mpg on the outgoing model. On just the highway, it'll get 23 miles to the gallon, and the diesel version will be rated more than 30 mpg on that basis, Manley said.

The Wrangler also will come with a growing suite of advanced technology features, including a weather-proof push-button starter. When automakers add new components or gadgetry to popular models, it typically raises the risk that consumers will encounter quality issues, said Jake Fisher, director of automotive testing at Consumer Reports.
"All-new or redesigned models are more likely to be problematic than those that carryover unchanged," Fisher said. "Our reliability data shows that these 'growing pains' are common among many manufacturers. Introducing too many new technologies at once is a recipe for disaster.''
Jeep Classic
Still, those risks are unlikely to scare away enthusiasts who embrace Wrangler as the modern incarnation of the original general-purpose military vehicle that could go anywhere.

"This is where all the off-road enthusiasm gets created for the Jeep brand," said Richard Hilgert, an analyst with Morningstar Inc. "You're not taking a Cherokee to the same places that you're taking a Wrangler.''
In a word, what drivers will get with this new Wrangler, according to Manley, is more.
"It is more capable, more fuel efficient. It has more technology," he told reporters during a briefing ahead of the show. "The only thing that isn't more is weight."

Quotes from this Article
Before it's here, it's on the Bloomberg Terminal.
LEARN MORE