Prosecutors Seek 30-Year Sentence for Menendez's Co-Defendant
By and
Salomon Melgen convicted separately of 'inhumane' crimes

Doctor's fraud supported life of luxury, prosecutors say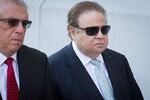 A Florida eye doctor whose bribery trial with Senator Robert Menendez ended in a deadlock deserves 30 years in prison for his earlier conviction in a separate health-care fraud case, prosecutors wrote in a memo to a judge.
Salomon Melgen, who was convicted April 28 of defrauding Medicare, deserves a long prison term for crimes that were "truly horrific," "barbaric" and "inhumane" and that allowed him to live luxuriously, prosecutors wrote Tuesday. He's to be sentenced next week in federal court in Florida.
Melgen, 63, falsely diagnosed elderly patients, subjected many to unnecessary treatment and sought to defraud the U.S. of at least $65 million, primarily through Medicare overbillings, according to the sentencing recommendation.
"By perpetrating a massive fraud, the defendant was able to live a life of luxury -- enjoying high-end properties, a private plane and pilot, a boat, luxury cars, a personal stock trader, extra-marital companionship and beyond," according to prosecutors.
Menendez Mistrial
Melgen and Menendez, a New Jersey Democrat, were on trial until Nov. 16 when a judge declared a mistrial after jurors said they were deadlocked. Menendez was accused of taking Melgen's bribes in the form of private jet travel, a Paris vacation and campaign contributions in exchange for pushing the doctor's business interests at the highest levels of the U.S. government.
Both men said they were close friends who had no intent to act corruptly. Outside the courthouse after the mistrial, Menendez said: "I wish my dear friend, Sal, success in his continuing search for justice."
Melgen was initially supposed to be sentenced for the health-care fraud before the bribery trial began on Sept. 6 in Newark, New Jersey. But the judge overseeing the Medicare fraud case in West Palm Beach, Florida, reset sentencing for Dec. 5.
Under advisory sentencing guidelines, Melgen faces between 30 years and life in prison. In a sentencing memo on Aug. 8, Melgen attorney Matthew Menchel argued that he should get far less time than the government was recommending.
'Evidence-Free Method'
Menchel said the government "vastly overstates the nature of the offense," arguing that prosecutors calculated a loss based on "a sweeping, evidence-free method." He said the government lost no more than $125,000, not tens of millions of dollars as prosecutors claim. Such a lower loss would dramatically reduce Melgen's potential sentence.
Melgen also deserves consideration as an immigrant from the Dominican Republic who "helped thousands of patients maintain and improve their vision," his attorneys argued.
Prosecutors painted a harsher picture of Melgen, saying he was the highest-billing ophthalmologist in the U.S. between 2008 and 2013, taking in gross receipts of $200 million. He was paid $100 million by Medicare, $62 million by private insurers and $10 million by Medicaid, according to the filing.
Melgen "abused the system and his patients for years and would have continued to do so had his greed not been so excessive that it drew the attention of federal investigators," prosecutors wrote. "The sheer magnitude of the fraud and the impact that his crimes had upon his defenseless patients separates this case from the 'run of the mill' health-care fraud."
Health Problems
Prosecutors also said the judge shouldn't grant leniency because of Melgen's physical and mental health problems. Melgen was "admittedly self-prescribing and abusing Adderall for a number of years." He also claimed to suffer from depression for a number of years and abused alcohol and tranquilizers, the U.S. wrote.
Such problems can be managed in prisons, while his "drug and alcohol abuse should not be a basis for leniency," according to the filing.
Melgen's attorney, Kirk Ogrosky, declined to comment.
The case is U.S. v. Melgen, 15-cr-80049, U.S. District Court, Southern District of Florida (West Palm Beach.)
Before it's here, it's on the Bloomberg Terminal.
LEARN MORE