U.K.'s May Warns of Islamic State Threat During Visit to Iraq
By
Prime minister on trip to meet troops and reaffirm alliance

Middle East tour to burnish defense and security ties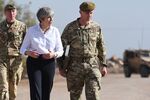 U.K. Prime Minister Theresa May warned that the threat of Islamic State remains even after its twin defeats in its strongholds of Raqqa and Mosul.
The premier spoke with British troops in Taji, north of Baghdad, before flying to the capital for talks with Iraqi Prime Minister Haider al-Abadi. Her unannounced visit, the first by a British prime minister since 2008, comes a month after al-Abadi declared victory against Islamic State in Mosul.
"This has been a significant military success against Daesh, but we must recognize that the threat remains," May told reporters as she flew to the region. "We must obviously deal with the issue of people from Daesh dispersing elsewhere."
May is on a three-day visit to the Middle East to burnish security and defense ties with key allies in the region as part of her effort to emphasize that Britain remains an influential global player even as it negotiates its exit from the European Union. Her visit also included meetings with leaders in Jordan and Saudi Arabia.
May's visit "is proof of the United Kingdom's support in the fight against Daesh," al-Abadi tole reporters at the government palace in Baghdad. About 600 British troops are based in Iraq in training roles.
Saudi Talks
The premier is scheduled to meet with Saudi Crown Prince Mohammed Bin Salman in Riyadh on Wednesday evening for discussions about the ongoing conflict in Yemen. Saudi's standoff with Qatar, and the gulf kingdom's program of social reforms. The following day she'll meet in Amman with King Abdullah of Jordan and Prime Minister Hani Mulki, her office said.
May said the fight against Islamic State goes beyond military action, citing efforts she's made with French President Emmanuel Macron and Italian Prime Minister Paolo Gentiloni to work with Internet companies such as Facebook, Twitter and Google's YouTube platform to crack down on extremist propaganda online.
"As we deal with Daesh it's not just about military action that is taken, it's about addressing the terrorist threat across the whole range of aspects we need to deal with, including, for example, access to the Internet," May said. There needs to be focus on "just how important it is for tech companies to continue to find ways for ensuring that the hatred and extremist propaganda that can fuel terrorism is taken down from their platforms as soon as possible," she said.
Before it's here, it's on the Bloomberg Terminal.
LEARN MORE