U.K. in Talks With Dublin and DUP to Lift Brexit Border Blockage
By
May says all sides agree they don't want a 'hard' frontier

Northern Ireland border main obstacle after progress on bill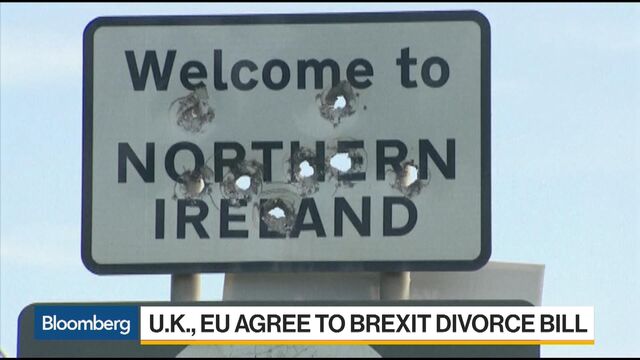 The U.K. is in talks with the Irish government and the Democratic Unionist Party to resolve disagreements over the border with Northern Ireland, Prime Minister Theresa May said as time runs short to convince the European Union "sufficient progress" has been made to move on to trade talks.
Britain and the EU have already made progress on two of the issues blocking a shift in the negotiations -- over the rights of citizens and the financial settlement -- and the border question is now the primary obstacle to talks progressing at a summit of EU leaders in December.
"We're all of one view that we don't want to see –- that's the parties in Northern Ireland, the Irish government, the U.K. government -- that we don't want to see a hard border," May told reporters on the plane to Amman, Jordan, as she began a two-day visit to the Middle East. "There are a number of ways in which we can ensure that for the future and look forward to having more detailed discussions on that as we move into phase two of the negotiations," she said.
The premier was responding to a question about how she would reconcile conflicting Brexit demands from the Irish government in the south, and Northern Ireland's Democratic Unionist Party, which props up her minority government. Irish Premier Leo Varadkar wants a written assurance that there will be no hard border post-Brexit while the DUP's priority is to avoid any kind of barrier between Northern Ireland and mainland Britain.
One stumbling block is that the two sides disagree on what a hard border means. While the U.K. says it doesn't want a return to the 'borders of the past' -- when the line was marked by soldiers and tanks -- Ireland doesn't want a border at all.
Before it's here, it's on the Bloomberg Terminal.
LEARN MORE