Trump's Clash With Democrats Raises Risk of Government Shutdown
By and
Trump's feud with Pelosi, Schumer may complicate negotiations

Lawmakers facing Dec. 8 deadline to keep government operating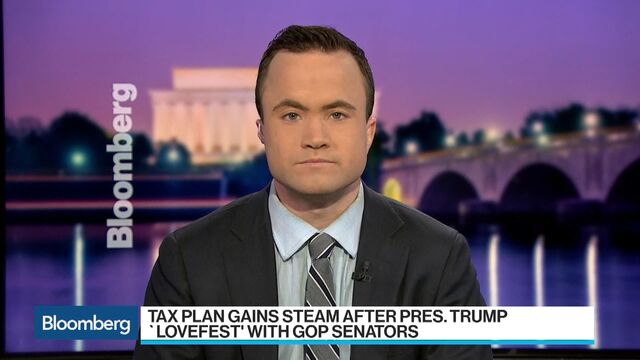 After a celebration comes the hangover.
Republicans in the U.S. Congress were cheered on Tuesday after President Donald Trump helped them get a bit closer to passing a tax overhaul in the Senate. But Trump also may have ensnarled negotiations to keep the federal government funded after money runs out on Dec. 8 by stiff-arming Democratic leaders before a scheduled White House meeting on spending.
Congress is headed toward passing another stopgap spending bill that puts off for two more weeks some hard choices on funding the government and on a number of other issues that lawmakers are scrambling to wrap up before the end of the year.
A failure to come to terms with Democrats risks another partial government shutdown, a political trap that Republicans in particular want to avoid.
"Nobody wins that way," said Senator Richard Shelby, an Alabama Republican. "Shutdowns are bad news."
The delicate negotiations required to get an agreement on funding come amid the bare-knuckled partisan drive by Republicans to usher through a broad tax-cut plan, a process that isn't finished yet. As the brink of a government shutdown gets closer, Democrats have added leverage for their end-of-year priorities because under Senate rules their votes are necessary to cut off unlimited debate.
Keep It Running
Senator John Cornyn of Texas, the No. 2 Republican leader, acknowledged that a short-term deal likely will be needed and that a shutdown is out of the question. "We're going to do what it takes to keep the government up and running until we can reach an agreement," he said.
The plan, until Tuesday, had been to pass a disaster-spending measure combined with a budget deal and two-week continuation of current spending levels, according to a Democratic aide. Then, lawmakers would work on an omnibus spending bill, the aide said. But now that timetable is in doubt, the aide said.
Even with an extra two weeks to negotiate it's unclear that Congress can come to terms on a trillion-dollar, all-encompassing spending package by the time lawmakers are scheduled to take their Christmas break.
There's "momentum" among GOP lawmakers to extend current spending levels into mid- to late-January, said Representative Mark Meadows, a North Carolina Republican who is chairman of the conservative Freedom Caucus.
Meadows said that extending a stopgap spending measure into January would increase the likelihood that the final omnibus bill also becomes the occasion to raise the federal debt ceiling. Treasury Secretary Steven Mnuchin has said Treasury can avert a debt-limit default at least through January.
Defense hawks in the Republican Party have made clear they won't support a longer stopgap spending bill, known as a continuing resolution, that would extend funding into January or February without a significant increase in the $549 billion cap for defense spending.
"If we're going to have a stopgap CR it better be a short one so we can clean this mess up," Republican Representative John Carter of Texas said.
Democrats' Priorities
Democrats are seeking equal increases for non-defense agencies. They are divided over walking away from a budget deal that doesn't include a provision that provides permanent legal status for some people who were brought into the U.S. illegally as children as part of the deal, something most Republicans are resisting.
Republicans in turn are contemplating funding for Trump's border wall in the bill, which Democrats oppose.
Both sides want to include another infusion of hurricane disaster relief funding for flood-ravaged Texas, Florida and Puerto Rico, although the amount is open to debate.
Then there is the question of whether to include a renewal of insurance subsidies under Obamacare and an extension of the Children's Health Insurance Program, which expired in September.
Closing In
Earlier this month, House Speaker Paul Ryan, Senate Majority Leader Mitch McConnell, House Minority Leader Nancy Pelosi and Senate Minority Leader Charles Schumer had been closing in on a two-year, $200 billion budget deal raising both defense and non-defense spending levels, according to multiple congressional aides.
That was the status of the talks before Trump took to Twitter Tuesday to blast Pelosi and Schumer just hours before all four congressional leaders were to meet with him at the White House.
"Meeting with 'Chuck and Nancy' today about keeping government open and working," Trump said on Twitter. "Problem is they want illegal immigrants flooding into our Country unchecked, are weak on Crime and want to substantially RAISE Taxes. I don't see a deal!"
Empty Chairs
Pelosi and Schumer pulled out of the White House session, saying they preferred to strike a deal directly with congressional Republicans. Trump went ahead with a meeting that included McConnell and Ryan, two empty chairs marked for the Democratic leaders and a scolding.
"They want tax increases and we want major tax decreases. So they decided not to show up," Trump told reporters.  "So we'll see what happens as to shutdown. We'll see."
Schumer and Pelosi are looking to bypass Trump and repeat what happened in May, when Congress averted a shutdown with a $1.17 trillion spending bill covering this fiscal year that was crafted largely on Capitol Hill. It mostly ignored the White House's requests, including funding for a barrier at the U.S.-Mexico border and $18 billion in cuts in spending for the environment, health care and other domestic programs.
"We don't have any time to waste in addressing the issues that confront us, so we're going to negotiate with Republican leaders who may be interested in reaching a bipartisan agreement," Schumer told reporters.
Backlash
Trump's move to distance himself from Democrats comes after he faced a backlash from his core supporters in September for aligning himself with Schumer and Pelosi on shielding undocumented immigrants from deportation in exchange for greater border security. The White House later sent Congress a conservative wish-list of proposals including decreases in legal, family-based immigration visas, as its price for such protections. Schumer and Pelosi rejected those new demands.
"What you read in this morning's tweet is a reflection of where he think his base is. But the president, if he's going to move forward and achieve anything this year, needs to move behind the hard line of his base," Senator Dick Durbin of Illinois, the No. 2 Democrat in the chamber, said.
Schumer and Pelosi's decision to snub the Trump meeting could shore up support in their own base which has been wary of any bipartisan deals with the president.
Oklahoma Republican Representative Tom Cole, a member of the House Appropriations Committee, said Trump's stance may be a negotiating tactic, but ultimately he needs to be involved in talks because he has to sign the spending bill.
"You worry anytime there are hiccups this late in the process," Cole said. "While taxes are important and health care is important and all these other issues are important, our main job here is actually to run the government of the United States."
— With assistance by John Fitzpatrick
Before it's here, it's on the Bloomberg Terminal.
LEARN MORE