Trump's Anti-Muslim Retweets Stir Outrage and an Ally's Rebuke
By and
Politicians on both sides of Atlantic criticize postings

President also tweets on NBC personalities Scarborough, Lauer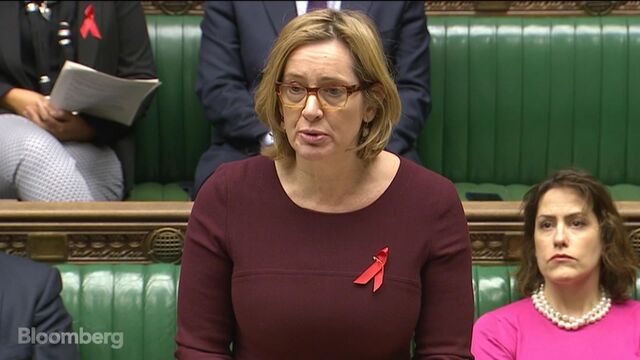 Donald Trump's early-morning tweets on Wednesday were extreme even by the standard of what the American public has become accustomed to seeing from him.
Before sunrise at the White House, the U.S. president retweeted a series of unverified anti-Muslim videos posted by a right-wing British activist. He continued with tweets falsely suggesting suspicious behavior by NBC personality Joe Scarborough and gloating over the firing of NBC anchor Matt Lauer for alleged sexual misconduct.
His first missives, three retweets of Jayda Fransen, the deputy leader of a British nationalist movement, drew a rare rebuke from America's closest ally. "It's wrong for the president to have done this," U.K. Prime Minister Theresa May's spokesman, James Slack, told reporters in London.
Trump considers Twitter to be one of his most important tools, a virtual bullhorn he uses to bypass news organizations and communicate directly with the public. Presidential tweetstorms have become routine since his inauguration, and he often uses the medium to bully his political and media opponents. But his most outlandish posts draw criticism from even members of his own party, and the retweets of Fransen appeared to cross a fresh line.
"If he is going to tweet he should confine it to serious policy issues," Representative Peter King, a New York Republican, said on MSNBC. "I wish he would not go into these extraneous issues."
Trump has issued 54 tweets from his personal and presidential accounts since 7:45 a.m. New York time on Tuesday, beginning with criticism of black NFL players who protest police brutality by kneeling or sitting during the national anthem.
White House Press Secretary Sarah Sanders defended Trump's retweets of Fransen. The three videos Trump retweeted purport to show a "Muslim migrant" assaulting a Dutch person on crutches, an "Islamist mob" pushing a teenage boy off a roof and a Muslim man destroying a statue of the Virgin Mary.
'National Security'
"I'm not talking about the nature of the video. I think you're focusing on the wrong thing," Sanders told reporters at the White House. "The threat is real, and that's what the president is talking about, is the need for national security, the need for military spending. And those are very real things. There's nothing fake about that."
She declined to directly answer questions about whether the U.S. government has verified the videos or whether it is appropriate for the president to promulgate unverified material produced by anti-Muslim groups. She said she had not spoken with Trump about his comments on Scarborough.
Fransen's group, Britain First, campaigns against what it calls the "Islamification" of the U.K. Slack said the group "seeks to divide communities through their use of hateful narratives that stoke tensions" and "is the antithesis of the values that this country represents: decency, tolerance and respect."
She was arrested last week after attending a rally in Northern Ireland, police said in a statement. She will appear in court next month to face charges of using "threatening, abusive, insulting words or behaviour."
Trump's retweet of Fransen drew praise from former Ku Klux Klan leader David Duke.
"Trump retweets video of crippled white kid in Europe being beaten by migrants, and white people being thrown off a roof and then beaten to death, He's condemned for showing us what the fake news media WON'T," Duke tweeted. "Thank God for Trump! That's why we love him!"
Stop Tweeting
King said his constituents regularly implore him to ask Trump to stop tweeting. "The tweeting has gotten to a lot of them," even voters who still support the president, he said.
"It is important to calm the nation down" he said, adding: "I don't know" if Trump can do that.
It's not as if Trump has nothing more important to worry about.
North Korea conducted its most impressive ballistic missile test yet on Tuesday, and its leader Kim Jong-Un declared that it now has the capability to strike targets anywhere in the continental U.S. The government faces the possibility of a partial shutdown next week. A tax overhaul that would represent the president's first major legislative accomplishment is under debate in the Senate. Investigations into ties between Trump's campaign and the Russian government are intensifying.
Three hours into his online day, Trump finally tweeted about the North Korea missile test. He foreshadowed imminent "additional major sanctions" on Kim Jong-Un's regime, without clarifying whether they would come from China or the U.S. -- leaving his own aides scrambling to get up to speed on developments.
Trans-Atlantic Backlash
Meanwhile, outrage over his Fransen retweets spread on both sides of the Atlantic.
Brendan Cox, the husband of slain Labour Party member of Parliament Jo Cox, who was killed by a far-right supporter days before the June 2016 Brexit vote, tweeted, "Trump has legitimised the far right in his own country, now he's trying to do it in ours. Spreading hatred has consequences & the President should be ashamed of himself."
Yvette Cooper, chairwoman of House of Commons home affairs select committee, called Trump's actions "appalling" and called on the U.K. government to condemn him for promoting the views of a leader of "a far-right hate group."
The Council on American-Islamic Relations -- the largest Muslim advocacy group in the U.S. -- condemned Trump's "incitement to violence against American Muslims."
"I have no idea what would motivate him to do that," James Clapper, former U.S. director of national intelligence who held key positions under former Presidents Barack Obama and George W. Bush, said on CNN on Wednesday about Trump's tweets. "To me it's bizarre and disturbing and particularly when I think of him doing that in the context of North Korea, where moderation and temperance and thought is critical."
— With assistance by Toluse Olorunnipa
Before it's here, it's on the Bloomberg Terminal.
LEARN MORE