South Africa's Top Judge Seeks Recommendation on Welfare Prosecutions
By
Chief Justice tells panel of experts to report back Jan. 29

Mogoeng tells panel to meet with central bank, Treasury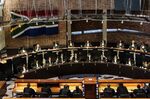 South Africa's Chief Justice ordered a panel of experts convened by the Constitutional Court to meet with the central bank and Treasury to recommend whether state employees should be investigated for possible malpractice or obstruction of court orders relating to the national welfare system.
An investigation, if carried out, would be conducted by the National Treasury and would determine whether employees of the state welfare agency and the Department of Social Development should be prosecuted, Chief Justice Mogoeng Mogoeng said in court documents on Wednesday. The recommendation should be made by Jan. 29.
Mogoeng also asked the panel to decide if the Department of Planning, Monitoring and Evaluation should act "to ensure that there is an end to the South African Social Security Agency's lack of proper institutional governance, capacity and oversight by way of technically and administratively skilled management as well as a board of qualified experts."
The nation's top court is coordinating a process to bring in a new distributor of welfare payments to 17 million beneficiaries after it allowed for a one-year extension to a contract for Net1 UEPS Technologies Inc. that was found to be invalid in 2014 because tender procedures weren't followed. The government has until April to find a new system to pay out more than 150 billion rand ($11 billion) in grants annually.
Before it's here, it's on the Bloomberg Terminal.
LEARN MORE