Why Roy Moore Could Still Win the Alabama Senate Race
By
Evangelical support, state's GOP tilt keeps him competitive

Backers look past allegations of relations with teenagers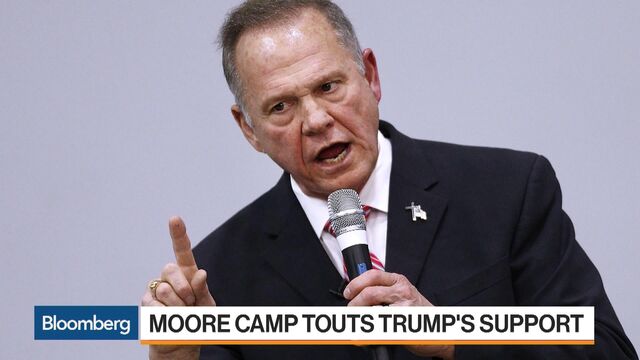 If Roy Moore wins Alabama's Senate race, it'll be a testament to the Republican Party's long-standing strength in the state, a widespread anti-abortion sentiment and the loyalty of evangelical voters to a solidly conservative candidate.
Moore, a Republican, has lost ground in polls in recent weeks after allegations that he initiated a sexual encounter with a 14-year-old, sexually assaulted a 16-year old, and pursued other teenage girls romantically when he was in his 30s. For most other politicians those would be career-ending charges. Yet Moore remains ahead of Democrat Doug Jones by two percentage points in an average of statewide polls compiled by Real Clear Politics.
Behind that is Moore's steady support from evangelicals -- who make up 49 percent of Alabama adults, according to a 2014 Pew Research poll. They like that he has a staunch anti-abortion record, puts his religious beliefs above the law and has called for the ouster of the Senate Majority Leader Mitch McConnell for being too willing to compromise with Democrats on conservative priorities, according to interviews with Alabama residents.
"We've seen what God has done for Roy Moore and that's what we need in Washington," Shawn Major a 53-year-old pastor from Bon Secour, Alabama, said this month after a Moore speech in Jackson, Alabama. "God uses a man and we're praying that Roy Moore will be the man that changes the culture or the attitude of Washington."
That faith in Moore, 70, has helped him run against a wider cultural shift in the nation in which women's stories of serial sexual harassment and assault have ousted men from high-profile positions in the entertainment, business, politics and media worlds.
GOP Opposition
While the Alabama GOP continues to support Moore, a number of national Republican leaders, including McConnell, have said they don't want him in the Senate. Alabama's senior senator, Republican Richard Shelby, said he didn't vote for Moore on an absentee ballot and instead wrote in "a distinguished Republican." If Moore wins, lawmakers could move to expel him from the chamber. Moore has denied allegations of sexual misconduct and has sought to cast doubt on the stories of women who have come forward.
Republican Stronghold
Alabama also remains a Republican stronghold, making it difficult for a candidate like Jones to gain traction as he campaigns ahead of the Dec. 12 special election. President Donald Trump won 62 percent of the vote in the 2016 election. In the past 14 presidential contests, the only Democrat to win the state was fellow southerner Jimmy Carter in 1976. The last Democrat elected to the Senate from Alabama was Shelby in 1992, who switched parties to become a Republican in 1994.
Moore gained national attention after he was twice removed as chief justice of the state supreme court, once in 2002 for refusing to remove a statue of the Ten Commandments from the state judicial building and again in 2016 for ordering probate judges to ignore the U.S. Supreme Court ruling on same-sex marriage.
Jones has run afoul of conservatives and abortion opponents for saying he opposes legislation to block abortions after 20 weeks.
"I am a firm believer that a woman should have the freedom to choose what happens to her own body and I'm going to stand up for that," Jones said on NBC's "Meet the Press" in September.
Abortion Opposition
The 2014 Pew poll found that 69 percent of Alabama evangelicals and 58 percent of all Alabama Republicans said abortion should be illegal in all or most cases. An Emerson College poll conducted November 25 to 27 found that 49 percent of voters surveyed identify as "pro-life" compared to 31 percent who identify as "pro-choice." Seventy percent of those who identified as "pro-life" backed Moore, while 70 percent of those who identified as "pro-choice" backed Jones.
"The abortion issue is clearly playing heavily because Doug Jones has stated that he's pro-choice, and that's been used in advertisements against him in the states," said Steven Taylor, a political science professor at Alabama's Troy University.
Republicans, including Moore's wife Kayla, have used Jones's NBC interview to accuse him of supporting "full-term abortions." Jones told the Alabama Media Group that he supports current law, which places restrictions on late-term abortions.
Despite the clarification, some Republicans still view Jones as an extremist on the issue.
"The Democrat, he says he believes you can abort a baby up until the time it's born. I mean that's a pretty rough dose of medicine," said Dub Ezell, the chairman of the Choctaw County Republican Party in rural southwest Alabama and Moore supporter.
Fulfilling Agenda
Some Republicans are also motivated by fulfilling the Republican agenda in the Senate. Alabama Governor Kay Ivey said last week that she would vote for Moore because "we need to have a Republican in the United States Senate to vote on things like the Supreme Court justices, other appointments the Senate has to confirm and make major decisions." She'd previously said that she no reason not to believe the women who accused him.
Perry Hooper Jr. a member of Trump's Alabama presidential campaign and a former backer of Senator Luther Strange, who lost to Moore in a Republican runoff, said the charges against Moore are part of a Democratic effort to take a valuable seat from Republicans.
Trump Agenda
"It has so much to do with implementing the Trump agenda," he said. "We cannot lose a Republican seat in the United States Senate and the Democrats and the left is doing everything they can to help Doug Jones win this race."
To win, Jones will need higher than average turnout from black voters, who make up about 27 percent of the state's 3.3 million registered voters and tend to vote for Democrats. He'll also need to overcome Republicans' massive registration advantage.
According to election results from the Associated Press, Moore won 164,524 votes out of 423,282 total Republican votes cast during the Aug. 15 primary, while all Democratic candidates received a total of 165,006. Moore's vote total increased to 262,204 out of 480,270 votes in the Sept. 27 run-off primary against Strange.
While the Jones campaign has tried to appeal to moderate Republicans, his best hope be for those voters to stay home.
"It's going to be less because a number of Republicans decided to vote for Jones, but more they decided not to show up," Taylor said.
Before it's here, it's on the Bloomberg Terminal.
LEARN MORE