Gilts Fall After Brexit Deal Spurs Speculation on Rate Increase
By and
Markets bring forward pricing for next BOE hike to September

Investors factoring in higher economic growth, says Santander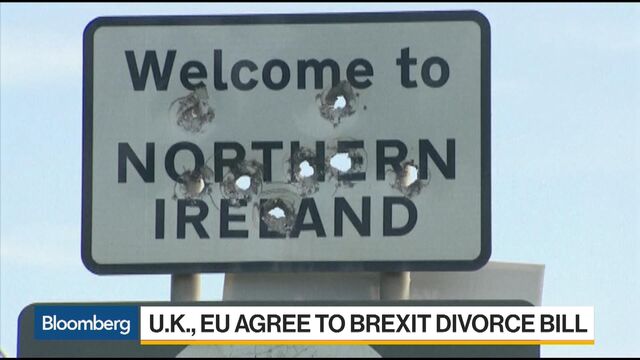 U.K. government bonds slumped as news that the nation had reached a preliminary deal with the European Union on the Brexit bill spurred speculation that the economy will be able to withstand another rate increase.
The pound advanced as money markets brought forward pricing for the Bank of England to September next year from November 2018 earlier. The slide in gilts signals that investors see higher medium-term growth and interest-rate expectations beyond the U.K.'s departure from the EU in March 2019, according to Adam Dent, a rates strategist at Banco Santander SA.

Yields surged across the board after negotiators in the U.K. and the EU reportedly reached an outline deal on the divorce bill that Britain will pay when it leaves the bloc, clearing a key hurdle in talks and leaving the issue of the Irish border as the last major obstacle before trade negotiations can start.
"The magnitude is a little surprising," Dent said in emailed comments. "But the news on Brexit payments last night was clearly a big relief to the market."
Ten-year gilt yields rose 10 basis points to 1.36 percent, the biggest intraday jump since Sept. 15. Sterling climbed as much as 0.7 percent to $1.3431, the highest level since Sept. 29, before trading at $1.3434 as of 4:23 p.m. in London.
Gilt Traders Should Remain Wary of Brexit Risks, Scotiabank Says
The pound advanced over the last three weeks against the dollar following the BOE's decision on Nov. 2 to raise rates for the first time in 10 years. Progress in Brexit talks could make further policy tightening more likely should the economy's performance exceed the bank's expectations, raising gilt yields still further.
"This helps to open up the topside on rates," said Richard Kelly, a strategist at Toronto-Dominion Bank in London, who sees two rate increases next year. "You still need the headlines on Ireland to make sure everything moves forward, but we do think they will reach a compromise acceptable to both sides."
Here's a round-up of some strategist views:
MUFG (Lee Hardman)
"It's clearly a positive catalyst for the pound although there is still a risk that the Irish border issue could prevent a breakthrough in Brexit talks next month," Hardman says
"Nevertheless, we are more confident in our bullish pound outlook, which rests on the assumption that a timely transitional arrangement is agreed early next year."
Commonwealth Bank of Australia (Peter Kinsella)
"Seems as though we're going to get a deal after all."
"GBP/USD will trade towards 1.37 within two weeks."
Sterling likely to rally on "news flow and also some more dollar weakness, also I think sentiment is too negative towards the pound, so it can squeeze higher"
Societe Generale SA (Jason Simpson)
"The U.K. was always going to increase the settlement amount, so I'm not sure why this is a surprise. The bigger hurdle for me remains the Irish border issue"
"A smooth transition to talking about trade would certainly be good for business sentiment and that could be seen bringing a rate hike forward"
"Think it is more about that than issuance connected with the bill - clearly 45 billion pounds is a decent amount of money to raise but a lot, like pensions, will be paid over an extremely long period of time"
— With assistance by Charlotte Ryan
Before it's here, it's on the Bloomberg Terminal.
LEARN MORE