Oil Market's Vital Signs Reveal Zero Tolerance for OPEC Nasties
By
Long positions, spreads all pricing in extension of OPEC cuts

Market consensus sees deal being prolonged by nine months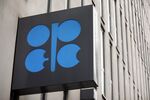 As the oil market continues its steady rehabilitation from the worst crash in a generation, one thing is becoming increasingly clear before OPEC's key meeting in Vienna on Thursday: there's going to be very little tolerance for bad news.
Here's a summary of key oil-market metrics that traders monitor, alongside data about supply, demand and stockpiles. They reveal a market that's heavily reliant on the Organization of Petroleum Exporting Countries and Russia doing -- at the very least -- what they've signposted, namely extending oil production restrictions through the end of 2018. The limits are presently supposed to expire in March.
1. Extraordinary Bullishness
The number of outright bullish bets in Brent and WTI crude combined passed the equivalent of 1 billion barrels last month. Funds flocked to the market, fortified by confidence that OPEC is succeeding in rebalancing the market, and will continue to do so. That very same bullishness poses one of the biggest risks to crude heading into Thursday's meeting. "I have the impression that OPEC is under pressure to satisfy the net speculative length," says Petromatrix GmbH Managing Director Olivier Jakob. "It will be important to read the fine print of the communique and see if there is anything meaningful and new."

2. Timespreads They Are A-Changin'
One of the most popular ways for traders to evaluate the strength of oil markets is through timespreads, or the gap between crude prices in different months. A commodity is typically considered to be bullish when more immediate contracts are costlier than later ones -- a structure known as backwardation that's prevailing now. The premium for Brent for December 2018 over the same contract in 2019 reached as much as $2.99 a barrel earlier this month, the strongest since that contract began trading. That bullishness, along with price gains and investor positioning "reflect a high probability of a nine month extension with only limited remaining upside heading into the meeting," Goldman Sachs Group Inc. analysts including Damien Courvalin said on Tuesday.

3. Volatility Crash
Few are wagering on big price swings when OPEC meets. Despite an uptick in recent days, oil market volatility has remained conspicuously low, with one gauge for WTI trading at its flattest in nine months. While the market is expecting limited volatility this time round, OPEC's most recent Vienna get together led to an intraday price swing of more than $3.50 a barrel. That's left analysts at BNP Paribas SA and JPMorgan Chase & Co. anticipating a spike should OPEC and allied nations disappoint the market.

4. Big Decision
The bottom line is that investors are -- as a minimum -- banking on OPEC and allied nations continuing their steady draining of the stockpile surplus through to the end of next year. "A very short extension could disappoint market expectations, but a very long one would risk prices overshooting and igniting U.S. shale production," says Giovanni Staunovo, commodity analyst at UBS Group AG. "OPEC's objective to bring OECD oil inventories down to the 5-year average has not yet been completely achieved."

5. Rush for Cover
Still, one corner of the market has quietly been bracing for bad news. The so-called put skew, the premium paid for bearish options, rose to its highest level in two months on Brent crude this week as Russia dragged its feet on agreeing to an extension. "It's insuring against OPEC disappointing, plus the market feels toppish," says Richard Fullarton, founder of London-based commodity hedge fund Matilda Capital Management. "The whole meeting comes down to the Russian-Saudi relationship."

Before it's here, it's on the Bloomberg Terminal.
LEARN MORE