New Biden Website Caters to Middle Class Amid 2020 Speculation
By
Debut comes as Senate debates plan to slash corporate tax rate

Former vice president hasn't ruled out presidential run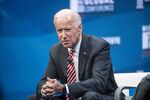 Joe Biden launched a new website on Wednesday designed to promote economic ideas benefiting the middle class, the latest step by the former vice president to maintain a voice in Washington policy battles amid speculation he could mount a presidential bid in 2020.
The site, dubbed the Biden Forum, is an extension of the vice president's foundation and will feature posts from elected officials and industry leaders on how they would address economic challenges facing the country.
"You'll hear diverse viewpoints from labor leaders, business owners, teachers, politicians, entrepreneurs -- and most importantly, from everyday Americans, including new graduates, new parents, and experienced workers learning new skills," Biden said in an introductory post to the website.
The launch of the website comes as the Senate - where Biden served 36 years - is poised to vote on a Republican plan to overhaul the nation's corporate and personal tax rates. Biden mentions a "tax code that isn't fair" as among the factors causing "deep-seeded anxiety among American workers" in his introduction to the site.
But the debut also comes as the former vice president has increasingly stepped back into the public eye, fueling speculation that he could again be considering a run for the White House. Biden released a new book focusing on the grief he experienced after losing his son, Beau Biden, to cancer, and has undertaken a media and public speaking blitz in support of the project. In the book, he said he decided against a 2016 presidential run because he was dealing with the trauma from his son's death.
Biden -- who will be 78 on election day in 2020 -- has said during the book tour that he's uncertain about whether to run again, adding in an interview with Snapchat that he could be open to a run if "no one steps up." But Biden also said he wasn't undertaking preparations to mount a campaign.
"I'm not taking names, I'm not raising money, I'm not talking to anybody, but something's got to happen," he said.
Before it's here, it's on the Bloomberg Terminal.
LEARN MORE