It's a Daunting Time for Mick Mulvaney to Take a Second Job
By
Trump named OMB director as interim CFPB head last week

Government could face partial shutdown Dec. 8 without deal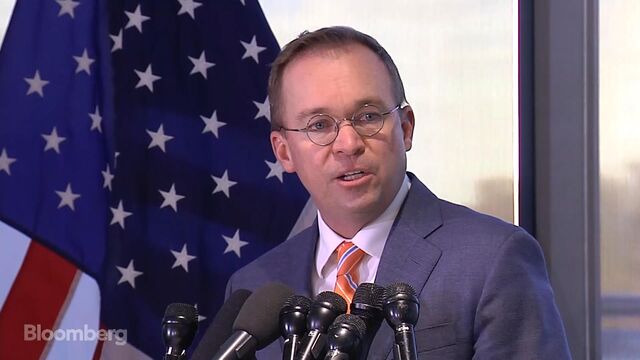 It's a busy time to be Mick Mulvaney.
Even before the president's budget director also had to run the Consumer Financial Protection Bureau, he faced a daunting December. The administration is in pivotal negotiations over federal spending as a Dec. 8 government shutdown looms, and his office is engaged in grueling deliberations over deep cuts the White House hopes to impose in the next budget.
Now, Mulvaney's portfolio is even bigger.
President Donald Trump's decision to tap him for the CFPB has not only added a consuming job, it also thrust him into the middle of a political melee, including a legal challenge by the agency's deputy director, Leandra English, who contends she's in charge. A U.S. judge on Tuesday rejected her request to block Mulvaney, who has indicated he'll look to make significant changes to the consumer watchdog he once called "a sick, sad joke."
The stakes for Mulvaney's juggling act heightened after the president tweeted Tuesday he didn't foresee a deal with Democrats on a government funding bill, prompting House Minority Leader Nancy Pelosi and Senate Minority Leader Chuck Schumer to pull out of a scheduled meeting at the White House and spiking concerns that a shutdown would occur. If Democrats and Republicans don't reach a deal on spending, the government could face a partial shutdown.
Half-Time
As each side starts positioning to blame the other for a should a breakdown close the federal government, it's a tenuous moment to have the Trump official in charge of budgeting shift the position to half-time status.
For Mulvaney, whose reputation as a fast-talking and hard-charging champion of right-wing causes have earned him the president's admiration, questions are now reverberating about whether he has finally bitten off more than he can chew.
"It's no doubt possible to do - the question is if it's possible to do well," said Paul Light, a professor at New York University who studies the federal bureaucracy. "It's very risky, especially at this point in political time."
During a press conference on Monday, Mulvaney downplayed the strain the new role would play on his schedule.
'Just Life'
"That's just life. I've been a small business owner before, I've slept at the office, I've worked 16 hours a day and seven days a week," he said. "It's not something new. If you've started your own business, I've done it more than once, you know working a little extra is not that big a deal in the final scheme of things."
He said he would split his time by working three days at OMB and three days at the CFPB until the president was able to nominate and confirm a new head of the consumer agency.
White House press secretary Sarah Sanders also dismissed questions about the dual appointments, unprecedented in the modern history of the budget director role.
"We're an administration that likes to break new ground," she said Monday.
Still, the inescapable constraints on time are likely to have some impact on what the director can accomplish.
Potential Strain
One place that strain could manifest is in next year's budget, where the White House is obligated to lay out proposed federal spending levels for each department and agency.
Ahead of the final budget is a vigorous negotiation with each branch of the federal bureaucracy, which typically look to protect and justify prized programs and funding. Mulvaney may end up delegating more of that process -- known as "passback" in reference to the OMB and agencies and departments passing back and forth drafts of proposed budgets -- to his senior staff. But the OMB director is expected to weigh in on major disputes, and help mediate disagreements with top Cabinet officials and the president.
Former Obama OMB director Jacob J. Lew noted how time consuming the process was during a 2011 breakfast hosted by Politico.
"Quality of life isn't so high during this period," Lew said. "You go home with about three hours of reading every night, you have about two or three hours of meetings every day, and then you have the rest of your job to do."
'Stretched Thinly'
Further complicating Mulvaney's task is an executive order signed by the president in April requiring OMB to submit a "comprehensive" proposal of legislative and administration actions to reorganize the federal government. Departments and agencies submitted their reorganization plans -- which were expected to include the elimination or consolidation of any duplicitous programs -- in September, with OMB using the late fall and early winter to sort through the proposals.
"I don't know what the president was thinking and I don't know what Mulvaney was thinking," Light said. "He's stretched pretty thinly."
Opponents of Mulvaney's appointment to the CFPB also say his role as budget chief could create ethics issues.
Senator Elizabeth Warren, the Massachusetts Democrat who helped conceive the agency, said that while she believed English was the rightful leader, Mulvaney needed to demonstrate he had considered rules related to ethics, conflicts of interest, and White House record-keeping if he continued to assert his leadership of the agency.
In a letter to Mulvaney dated Monday, Warren asked him to answer a series of questions about how he planned to adhere to CFPB ethics and housekeeping rules and expressed concern: "Mr. Mulvaney and his staff may not be following all appropriate procedures."
A government-accountability group on Wednesday also questioned whether Mulvaney was following all the rules. Campaign for Accountability called on Congress to investigate whether Mulvaney violated a federal law by reportedly directing OMB staff to assist him with CFPB matters.
Another victim of Mulvaney's cramped schedule could be the budget director's role as one of the administration's top media surrogates. The director conducted over 100 interviews, conference calls, and press briefings over his first seven months in office, according to schedule information obtained by a ProPublica open-records request.
Before it's here, it's on the Bloomberg Terminal.
LEARN MORE