May Vies With Trump for Aramco Listing
By
U.K. premier is in Riyadh for meetings with king, crown prince

U.S. also seeking to secure share of possibly biggest-ever IPO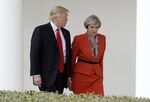 U.K. Prime Minister Theresa May said London is "extremely well-placed'' to win a planned stock exchange listing by Saudi Arabia Oil Co., as she competes against U.S. President Donald Trump for the coveted initial share sale by the world's largest crude producer.
The company, known as Aramco, is mulling an international sale in addition to a listing on the Saudi exchange. Trump earlier this month tweeted his hope that the Saudis would use a U.S. exchange, before lobbying Saudi King Salman personally on a phone call.
"I think London is extremely well-placed'' to secure the listing, May told reporters on the plane when asked how confident she was that London would secure the share sale. That's "not only for its importance as an international financial center, it's also technically well-placed in relation to Aramco.''
May was commenting ahead of a visit to the Saudi capital -- her second time in Riyadh this year -- and her words stress the importance attached to what could be the largest IPO on record. For the embattled premier, it would mark a vote of confidence in the U.K. as the country leaves the European Union.
Oil's $1 Trillion Question: Read a BusinessWeek story on Aramco's valuation
The Aramco share sale is the centerpiece of Crown Prince Mohammed bin Salman's "Vision 2030" reform plan, intended to diversify the kingdom's economy and invest more heavily in infrastructure. May landed late Wednesday in Riyadh for bilateral meetings with King Salman and the crown prince. She told reporters beforehand that she would raise the IPO with them.
The U.K. has already invested considerable political capital to try to secure the business for the London Stock Exchange.
The government earlier this month agreed to a $2 billion loan guarantee, an unusually large export credit guarantee that's designed to finance the purchase of British goods, but that also opened May up to the suggestion she was trying to influence the listing decision.
Britain's main financial regulator, the Financial Conduct Authority, has already drawn criticism for proposed changes to listing rules that would make it easier for Aramco to trade in London.
Back in April, May visited Saudi Arabia with LSE Chief Executive Officer Xavier Rolet -- who resigned Wednesday. The CEO greeted her off the plane in Riyadh, and they attended several meetings together with ministers and investors. He was the first person the premier introduced to King Salman, and he again came to the airport to see her off, chatting with Saudi officials on the red carpet.
"We met a number of ministers and others and discussed the advantages that we believe that London has,'' May said of that visit. "It's an issue that I will continue to raise in my visit now.''
Before it's here, it's on the Bloomberg Terminal.
LEARN MORE