Gilt Traders Should Remain Wary of Brexit Risks, Scotiabank Says
By
Bank says yield curve may steepen on no-deal, Corbyn election

Brexit and Corbyn 'both pretty scary' for markets: Investec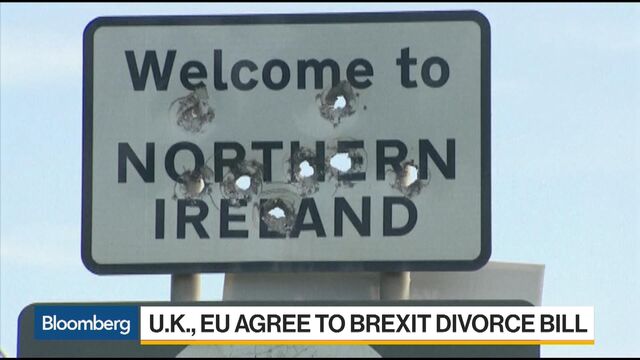 While news of a potential breakthrough in Brexit talks on the U.K.'s divorce bill to leave the European Union may have calmed some nerves, gilt investors shouldn't get too complacent about the risks.
It's only a matter of time before the next hurdle in the negotiations between Britain and the EU arises, according to Scotiabank. Markets aren't priced for the Brexit talks collapsing, nor the risk of a new U.K. election and the resulting fiscal policy if opposition Labour leader Jeremy Corbyn wins, it said. That may cause a shift in the U.K. yield curve, with the spread between five- and 30-year notes widening, the bank said.
"We have passed a hurdle, but much bigger issues remain," said Daniela Russell, a European fixed-income strategist at Scotiabank, adding that the news of progress on the U.K.'s financial settlement had not changed her view. "The gilt curve is not priced for the risk of a no-deal Brexit outcome, or the chance of another election," and "the bigger threat from higher issuance comes via the ongoing risk of a future Corbyn-led government," she said.
Scotiabank is not alone in worrying about the government's durability. Morgan Stanley & Co., Citigroup Inc. and Nomura International Plc have all flagged a Corbyn election win as a risk to U.K. assets this month, while Investec Asset Management has said its clients were looking to hedge against political instability. The Labour leader has even raised the potential for currency-market volatility should he win office.
"Clearly the ability of the Conservative government to carry on until 2022 is somewhat uncertain," Investec Asset Management's John Stopford said on Tuesday before the Brexit bill reports. In terms of whether Corbyn or Brexit could be more disruptive for markets, "they are both pretty scary prospects" and "could both be quite damaging," he said.
Before it's here, it's on the Bloomberg Terminal.
LEARN MORE