Former Mugabe Loyalists Race to Ingratiate Themselves With New President
Bloomberg News
Zimbabwean ministers, Mugabe acolytes endorse the new leader

Mugabe's 'obedient son' attacks former president's wife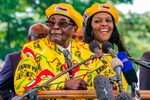 Robert Mugabe and his wife Grace are finding just how fleeting loyalty can be.
Ex-loyalists in Zimbabwe are distancing themselves from the former first family and trying hard to ingratiate themselves with newly installed President Emmerson Mnangagwa, known by his nickname of the Crocodile, after a military coup earlier this month toppled the 93-year-old leader.
The state-controlled press swapped allegiance overnight, with Herald newspaper Editor-in-Chief Caesar Zvayi Tweeting "The new president means business," after a statement from Mnangagwa demanding stolen money and assets be returned to the country. He also tweeted a picture of crocodile-themed shoes worn to Mnangagwa's inauguration. Days earlier, Zvayi was being teased on social media for his fawning support of the then first family, including Grace, who had said she was ready to succeed Mugabe.
Former Home Affairs Minister Obert Mpofu jumped ship shortly after the military took over, introducing Mnangagwa at his first press conference and saying Mugabe's 52-year-old wife had taken advantage of him and abused the country's resources. Mpofu had earlier told Mugabe he was his "most ever obedient son," and he was known for dancing at rallies held by Grace and bowing to the former first lady.
"You can expect dozens of Grace's sycophants to jump onto the Mnangagwa train now that she's fallen from, well, grace. They'll be queuing to pretend they never knew her," said Farai Gwisai, who sells mobile phone air time on the streets of the capital Harare because he can't find work. "Everyone's laughing about it."
Mugabe was effectively toppled when Zimbabwe's military placed him under house arrest in the early hours Nov. 15. Grace had headed a faction of the Zimbabwe African National Union-Patriotic Front party known as G-40, which had maneuvered Mnangagwa out of the party and seen him fired as Mugabe's vice president before Zanu-PF reinstated him. Mnangagwa was sworn in as president Nov. 24.
— With assistance by Antony Sguazzin
Before it's here, it's on the Bloomberg Terminal.
LEARN MORE