Five Things You Need to Know to Start Your Day
Get caught up on what's moving markets in Asia.
By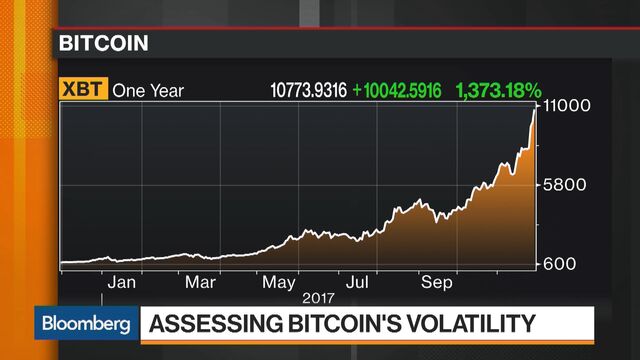 Want to receive this post in your inbox every morning? Sign up here.
Bitcoin mania gets even more manic, Alibaba hits traders with a megabond, and warnings on Hong Kong real estate. Here are some of the things people in markets are talking about.
Bitcoin Soars Past $11,000, Then Promptly Plunges
Forget about $10,000. Bitcoin surpassed $11,000 just hours after hitting the five figure milestone. Yet before the U.S. session was done, the cryptocurrency tumbled as much as 20 percent from its peak, wiping more than $2,000 from its price. The euphoria is bringing into the mainstream what was once considered the provenance of computer developers, futurists and libertarians seeking to create an alternative to central bank-controlled monetary systems. Some on Wall Street are embracing the run, with more than 100 hedge funds now dedicated to digital currencies. Others are issuing dire warnings, with Nobel Prize winner Joseph Stiglitz saying it ought to be outlawed as it "doesn't serve any socially useful function." Here's a wrap of what bitcoin watchers are saying about the recent surge. No bets on where it will be this time tomorrow. 
Alibaba Megabond
Chinese e-commerce giant Alibaba is issuing $7 billion bonds in the biggest dollar-denominated offering by an Asian corporate issuer this year. The new bond sale comes after the company struck a $2.9 billion deal earlier this month to buy a slice of China's largest hypermart chain Sun Art Retail Group to pit it against Wal-Mart in the world's largest retail market. Alibaba is offering the notes in five parts, with maturities of 5.5, 10, 20, 30 and 40 years, according to people familiar with the offering. The deal was felt in the market for U.S. government debt, with the long end of the Treasury curve coming under pressure as funds made room for the securities and dealers hedged their exposure.  
Dire Warning For Hong Kong Real Estate
The IMF is telling people to be cautious when it comes to the world's most expensive housing market. The agency said Hong Kong real estate could cool next year if the Federal Reserve delivers the rate hikes it has projected, describing Hong Kong's property market as "booming and overvalued." The outlook comes as Hong Kong's red hot property sector shows few signs of a slowdown with price gains of 11 percent this year even after the government pushed through new taxes and mortgage curbs. The next Fed meeting comes Dec. 12-13 in Washington, with economists forecasting policy makers will raise the benchmark interest rate by 25 basis points. Higher borrowing costs in the U.S. and elsewhere in the world would increase Hong Kong's debt burden and suck capital away from the finance hub, though the authors of the report added that authorities have tools to respond. 
Tech Wreck
U.S. stocks slipped as a selloff in technology shares hit the major indexes. The Nasdaq 100 Index fell as much as 2.2 percent as signs of a rotation from the year's leaders emerged anew, spurred by tax legislation in the Senate that's viewed a less beneficial to the sector compared to others. The FANG block of megacap tech companies that paced gains throughout the year fell the most in 22 months. Goldman Sachs warned clients about current stock valuations. In the U.K., gilts dropped and sterling jumped as investors brought forward their expectations for the next interest-rate increase by the Bank of England after Brexit negotiators agreed to an outline divorce deal. Elsewhere, oil declined before OPEC meets to decide on prolonging supply cuts past the end of March, the dollar fluctuated and 10-year Treasury yields rose.
Data Deluge
Asia's traders will finally have some data to sink their teeth into this week as Thursday brings a sudden flood of key reports. China's manufacturing PMI is the headline, with analysts forecasting the gauge will post its first two-month decline since January. If it does, markets will be seeking to judge whether it's just part of the economy's transition away from a growth-at-all-costs model or indicative of a deeper slowdown. The Bank of Korea may raise interest rates for the first time in more than six years. Australia reports third quarter Capex, including the survey of expected future investment plans, and October building permits. Japan and South Korea detail industrial output figures. Later on, OPEC and partners meet in Vienna to discuss extending oil output curbs, while ECB Executive Board member Peter Praet delivers the Ludwig Erhard Lecture in Brussels. There are some meaty European data points coming too, including euro-area CPI and unemployment, German and Italian unemployment, and GDP reports for Spain and Switzerland.
What we've been reading
This is what caught our eye over the last 24 hours.
— With assistance by Garfield Clinton Reynolds
Before it's here, it's on the Bloomberg Terminal.
LEARN MORE