Five Things You Need to Know to Start Your Day
Get caught up on what's moving markets.
By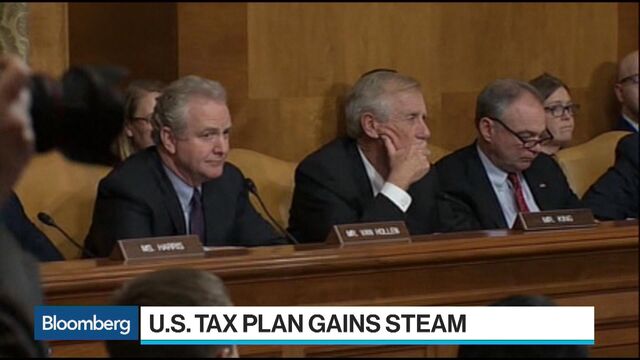 Want to receive this post in your inbox every morning? Sign up here
Tax vote faces Senate hurdles, U.K. agrees Brexit divorce bill, and bitcoin crosses $10,000 milestone. Here are some of the things people in markets are talking about today.
Trigger (un)happy
A concession to ensure the tax plan doesn't fall foul of spending limits may imperil the bill on the Senate floor, with GOP officials gunning for a vote as early as Thursday. The addition of a so-called revenue trigger that would lead to automatic tax increases should the deficit rise is drawing opposition from some conservative groups, with economists sounding the alarm over its pro-cyclical impact in the event of a U.S. recession. Meanwhile, the prospect of a government shutdown is looming, after Democratic leaders pulled out of a scheduled meeting with President Donald Trump on the issue after he tweeted that a deal was unlikely. 
U.K. agree to bill
There was progress in Brexit negotiations after an outline deal was reached on the divorce bill the U.K. would pay when it leaves the European Union. The pound rallied to the highest level in two months and gilts fell as investors brought forward their timetable for the next Bank of England rate hike as the prospects of a hard Brexit are seemingly undercut by the agreement. The thorny issue of the Irish border, however, remains a key obstacle to a successful outcome at next month's summit.  
Bitcoin $10,000
Bitcoin's rapid rally continues, with the cryptocurrency passing $10,000 overnight, reaching a high of $10,903.47, a $1,000 gain in less than 24 hours. Analysts are running out of superlatives to describe the price action of the digital token, but usually bitcoin beats leading estimates. It was up 8 percent at $10,718.85 at 5:35 a.m. Eastern Time. 
Market rally
Overnight, the MSCI Asia Pacific Index rose 0.3 percent while Japan's Topix index closed 0.8 percent higher as the latest North Korean missile test failed to rattle investors. In Europe, the Stoxx 600 Index was 0.7 percent higher, with London's FTSE 100 Index the only major national gauge trading lower due to the strengthening pound. S&P 500 futures were broadly unchanged, the 10-year Treasury yield was at 2.340 percent and gold was flat.
Coming up
At 8:30 a.m., the second reading of third-quarter GDP is published, with expectations for a slight increase to an annualized 3.2 percent. There's a lot for central-bank watchers, with New York Fed President William Dudley speaking on the U.S. economy at 8:30 a.m., and Fed Chair Janet Yellen appearing before the Joint Economic Committee of Congress at 10 a.m. Meanwhile, Bank of England Governor Mark Carney speaks at 9 a.m. and Bundesbank President Jens Weidmann addresses the future of the eurozone at midday Eastern Time. 
What we've been reading
This is what's caught our eye over the last 24 hours.
Before it's here, it's on the Bloomberg Terminal.
LEARN MORE