Fed Leak Probe That Toppled Lacker Fizzles With No Leaker Named
By
Inspector General quietly closes case on 2012 leak to Medley

Mystery remains over original source of private FOMC talks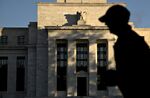 The Federal Reserve's Inspector General said nothing about its investigation into a 2012 leak of confidential central bank information in its latest report to Congress, quietly ending a probe that troubled two Fed chairs and toppled a key policy maker.
The IG on Wednesday published a 70-page semiannual report to Congress that covers its activities from April through September this year. During that time, Jeffrey Lacker resigned as Richmond Fed president as he described his role in the unauthorized disclosure of information to a New York-based research company.
But the report makes no mention of the investigation into the leak, which IG spokesman John Manibusan confirmed is one of 21 probes that closed during the reporting period. Manibusan declined to provide further comment.
The lack of elaboration, after the IG spent months digging with the Federal Bureau of Investigation and the U.S. District Attorney, is an anti-climactic end to one of the biggest cases of non-public disclosure in the Fed's recent history.
The probe stemmed from a leak of confidential information to Medley Global Advisors about a 2012 Federal Open Market Committee meeting. Medley released details of the FOMC's September meeting to its investor clients on Oct. 3, one day before the central bank published minutes of the gathering.
Inside Details
The report contained inside details of the September meeting, noting that the Fed board staff stayed up past midnight preparing a book of policy options for Fed officials. The Medley report also discussed in detail the prospects of a new policy innovation that would involve telegraphing the path of the federal funds rate based on employment and inflation indicators instead of calendar-based guidance. The report used the phrase "the leadership knew" when discussing the prospects of one policy option.
The leak to Medley triggered an internal probe by then-Chairman Ben S. Bernanke, though the central bank didn't make its investigation public. Bloomberg and ProPublica, a nonprofit news organization, first reported on the probe's existence in December 2014, after Janet Yellen had taken over as chair.
After those reports, and following congressional pressure, the IG reopened an earlier inquiry. The IG announced in April this year that it was closing its investigation following Lacker's resignation.
In a carefully worded statement distributed by his lawyer, Lacker said in April that he "crossed the line" in confirming confidential information, but stopped short of admitting he provided the information to Medley in the first place.
Dawn Dearden, a spokeswoman for the U.S. Attorney's Office for the Southern District of New York, which was involved in the probe, declined to comment. Ann Wagner, chair of the House Financial Services Oversight and Investigations Subcommittee, wasn't immediately available for comment.
Before it's here, it's on the Bloomberg Terminal.
LEARN MORE