Barnier Says Britannia Won't Rule the (EU) Waves After Brexit
By and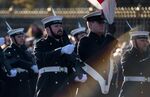 Michel Barnier, the European Union's chief Brexit negotiator, laid out a set of conditions that the U.K. must respect if it wants to play a part in bolstering the region's defense in the future.
While the immediate focus of the Brexit negotiations is on the money the EU wants the U.K. to pay for the separation and the status of the Irish border, Barnier used a speech in Berlin on Wednesday to warn the British government about its defense role in years to come.
A country outside the EU, as the U.K. is due to become in March 2019, "may not lay claim to a status that is equivalent or superior to that of a member of the union," Barnier said. The EU's "decision-making autonomy must be respected; the United Kingdom may not decide on the use of certain capacities under the European flag," he said.
The U.K. has always been one of the most reluctant countries when it comes to increasing the EU's military role, claiming that it would threaten the status of the North Atlantic Treaty Organization. The EU's other 27 members have seized on the opportunity of the U.K.'s planned withdrawal to start to make plans for closer cooperation.
"In a position paper published early September, the United Kingdom made a rare statement in support of European defense policy," Barnier said. While the EU wants an "ambitious partnership" with the U.K., taking part in European defense "will confer rights and obligations in proportion to the level of this participation."
Before it's here, it's on the Bloomberg Terminal.
LEARN MORE