ESPN Cuts About 2% of Its Workforce
By
150 jobs to be cut to make way for new investments: Skipper

Sports network has lost 12% of subscribers since 2010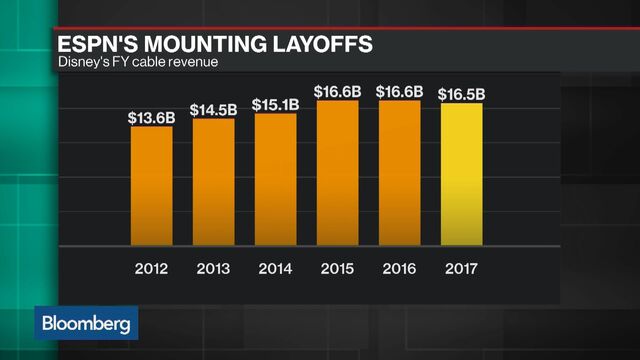 ESPN is firing about 150 people, eliminating about 2 percent of its workforce as subscriptions decline and costs rise for the rights to air live sporting events.
Employees will be informed Wednesday of the layoffs, which are mostly in production, digital content and technology, said John Skipper, the network's president, in a memo obtained by Bloomberg. The network, owned by Walt Disney Co., expects to maintain its staff at about 8,000, but needs to cut some positions so it can devote resources to a new morning show, an online streaming service and shows for social networks, said a person familiar with the matter, who asked not to be identified discussing personnel matters.
Job cuts have become commonplace at a network that once seemed unstoppable, able to rely on steady increases in fees from pay-TV operators and rising ratings for many pro sports. Yet sports fans can now watch highlights on Facebook and Snapchat, see live football on Amazon and buy basketball games straight from the NBA. Subscriptions have fallen from a peak of 100 million in 2010 to 88 million at the end of September.

ESPN fired about 100 staffers in April, including football reporter Ed Werner, baseball writer Jayson Stark and hockey correspondent Pierre LeBrun. The struggles of the network, based in Bristol, Connecticut, have hampered Disney, which reported its first earnings decline since 2009 in the most recent fiscal year. 
The fired employees will receive their bonuses for the year, as well as health benefits, according to the memo.
Before it's here, it's on the Bloomberg Terminal.
LEARN MORE