A Guide to Britain First, the Anti-Islam Group Trump Retweeted
Kitty Donaldson and Thomas Penny
Group claims to promote 'Christian,' 'indigenous' values

Killer of lawmaker Jo Cox yelled 'Britain First' during attack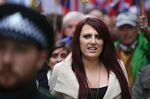 Britain First, which has operated at the fringes of politics for years, had a moment in the international spotlight on Wednesday after its videos showing anti-immigration and anti-Islamic messages were re-tweeted by U.S. President Donald Trump.
Based in the town of Swanley, about 16 miles southeast of London, Britain First, which grew out of anti-immigrant movements including the all-white British National Party, says it is "committed to preserving our ancestral ethnic and cultural heritage, traditions, customs and values." It opposes "the colonization of our homeland through immigration." It also claims to be a Christian organization, according to its website and Facebook page.
The killer of Jo Cox, a lawmaker murdered during the campaign for last year's European Union referendum, shouted "Britain First" as he stabbed and shot her, according to witness testimony at his trial. Lawmakers called for the organization to be banned as a result, but so far authorities have refused.
Paul Golding, 35, who calls himself the group's leader, claims "millions" follow his movement, but the U.K.'s political regulator, the Electoral Commission, doesn't recognize Britain First as a political party, so no official statistics exist.
Deputy's Arrest
"Our deputy leader was arrested and charged with a public order offense for making an Anti-Islamist speech back in August in Belfast," Golding said in a telephone interview. "We can only assume this news has reached Donald Trump and he is re-tweeting three of our videos in support of her."
Golding's deputy, Jayda Fransen, was charged with "using threatening, abusive, insulting words or behavior," the police service of Northern Ireland said in an email. She is due in court in Belfast on December 14.
One of the videos shared by Trump purported to show a "Muslim migrant" assaulting a Dutch person on crutches, another to show an "Islamist mob" pushing a teenage boy off a roof and a third to show a Muslim man destroying a statue of the Virgin Mary. It is typical of the tone of Britain First's social media posts.
On its website, along with photos of minority ethnic men, Britain First says it "rejects racial hatred in all its forms," adding it "opposes Islamic extremism and mass immigration because they are a danger to the British people."
Jo Cox's widower, Brendan, took to Twitter to condemn Trump's retweets: "Trump has legitimised the far right in his own country, now he's trying to do it in ours," he wrote. "Spreading hatred has consequences and the President should be ashamed of himself."
The following for groups like Britain First and the taste for "direct action" are growing, according to official statistics. The Home Office said that in the year to June, there was a 92 percent increase in the number of terrorism-related arrests of white far-right extremists, to 127 from 66. They accounted for 34 percent of all terror arrests in the period.
Before it's here, it's on the Bloomberg Terminal.
LEARN MORE