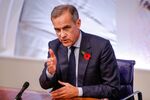 A big Brexit roadblock has been busted, and sterling markets have obliged with a big response. The pound soared to a two-month high against the dollar, and 10-year gilt yields jumped. But the most interesting move is in front-end rate expectations. 
The money markets are interpreting negotiating progress as somehow enabling the Bank of England to pull forward its next interest-rate hike from November 2018 to as early as September. This looks like jumping the gun.
To start with, at the BOE's the Nov. 2 press conference, Governor Mark Carney was at pains to portray the rate increase as a dovish hike. More recently, Silvana Tenreyro, the newest Monetary Policy Committee member, last Thursday rehashed the majority view of the rate-setting panel: it expects two more 25 basis-point increases over the next three years. Deputy Governor Jon Cunliffe, who was in the minority voting for no change in rates this month, said Wednesday he would want to see a pickup in domestic cost pressures before voting for a hike.
The bank has always stipulated that its assumptions are based on a smooth Brexit, so it is hard to see what has changed.  
Like the U.S. Federal Reserve, the MPC are data-dependent on their policy changes. After the recent pessimistic forecasts for growth and productivity from the Office for Budget Responsibility, there are going to have to be a lot of stronger-than-expected economic data to warrant further policy tightening ahead of the March 2019 Brexit date. 
Gilt yields moving higher is logical if the Brexit bill has risen, but as it will be spread out over four decades it is unlikely to weigh too heavily on the public purse. It's right that traders haven't panicked, not least because a large coupon payment due on Dec. 7 is more important for underpinning the market. 
The pound's climb against the dollar is mostly a function of dollar weakness, not a grand shift in sentiment in favor of a British economic rebound. And anyway, versus the euro, the currency of its biggest trading partner, it is still in the lower half of the range for the year.
There is a long way to go until the Brexit divorce agreement is truly resolved. Sterling rate expectations should take a chill pill.
Before it's here, it's on the Bloomberg Terminal.
LEARN MORE