Balance of Power: Kim Jong Un Gets the Upper Hand
By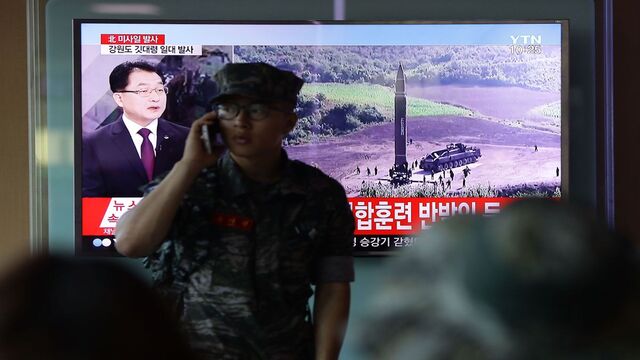 U.S. President Donald Trump's options for stopping North Korea's nuclear ambitions are dwindling with each new missile test.
Kim Jong Un declared his country's nuclear quest complete today after testing a new rocket that potentially puts the entire continental U.S. within striking distance. While Kim must still prove some capabilities to back up that boast — miniaturizing a warhead and ensuring its survival through reentry, among them — it's clear he's closing fast.
Trump, meanwhile, is exhausting ways to coerce North Korea that don't involve military action, as David Tweed reports. China and Russia are unlikely to embrace stricter United Nations sanctions that might destabilize their neighbor. And recent overtures between Beijing and Pyongyang haven't shown any sign of a breakthrough.
That leaves talks with Kim himself, who Trump has derided as a "deranged tyrant" with no respect for diplomacy. The president's response to the latest launch was cryptic. "We will take care of that situation," he told reporters.
The U.S. has always demanded that Kim accept denuclearization. But with pressure tactics failing and military strikes unpalatable, Kim might yet push Trump toward the table on more favorable terms.

Sign up to receive the Balance of Power newsletter in your inbox, and follow Bloomberg Politics on Twitter and Facebook for more.
Global Headlines
Brexit divorce bill | Negotiators have secured a tentative agreement on the amount Britain will pay when it leaves the European Union. The bloc was asking for at least 60 billion euros ($71 billion) but any final figure will be camouflaged to help Prime Minister Theresa May's government sell the unpopular deal to voters. The U.K. has until Monday to present a proposal on the last major hurdle — how a hard border can be avoided with Ireland.
Upping the shutdown ante | Trump may have ensnared negotiations to keep the federal government funded after money runs out on Dec. 8 by stiff-arming Democratic leaders before a scheduled White House meeting. A Trump tweet prompted Democrats to pull out of the meeting yesterday, casting a pall on Republicans' prospects of avoiding a year-end shutdown.
Saudi Arabia's purge | One of the most senior royals detained in the kingdom's corruption crackdown was released yesterday after reaching a settlement deal believed to exceed $1 billion, Alaa Shahine reports. Prince Miteb bin Abdullah, son of the late King Abdullah, was head of the powerful National Guard. His release is a sign authorities are winding down a purge that's reverberated across world capitals. 
Europe's migrant crisis | Leaders gathering for a two-day African-European summit in the Ivory Coast will examine a spike in migration that's stoked electoral gains by far-right parties from France to Hungary. Africa wants more investment and Europe favors greater controls on movement to deal with an issue that grabbed world attention this month when CNN broadcast footage of what it described as slave markets in Libya.
Taking on Netanyahu | Under police investigation and with his popularity slipping in the polls, it's easy to see why Israeli Prime Minister Benjamin Netanyahu wants to cut taxes before a possible election next year. But Karnit Flug, who's run Israel's central bank since 2013, has different ideas. David Wainer profiles the country's first female governor.
And finally… Diamonds have been a blessing and a curse for the Central African Republic since its independence from France in 1960, providing crucial income while fueling corruption and conflict. Whispered offers of gems for sale hint at a thriving illegal market, writes Pauline Bax, which is bad news for a government lobbying for the removal of an international export ban. "If you're caught in the act, we'll deport you,'' Mines Minister Leopold Mboli Fatrane said. "But we have a big country and barely any means to investigate.''

— With assistance by Karl Maier, and Michael Winfrey
Before it's here, it's on the Bloomberg Terminal.
LEARN MORE