As Mass Shootings Fade, Lawmakers Restart Push to Expand Gun Rights
By and
Republicans say measure promotes safety, makes system fairer

Democrats say the bill impinges on states' regulatory powers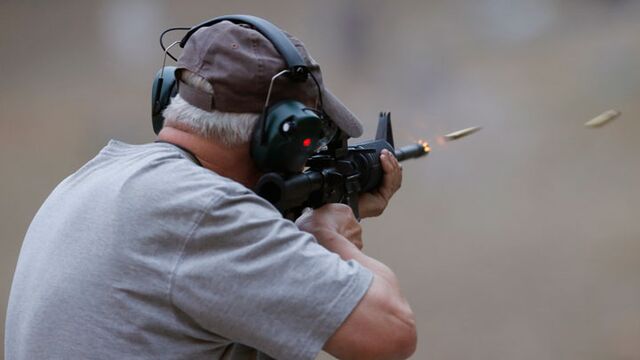 After the shock of several mass-shootings in recent months, including the Oct. 1 massacre of 58 people in Las Vegas and the killing of 26 people in a Texas church a month later, it's back to regular order on gun politics in Congress.
The House Judiciary Committee today began debating a bill requiring states to honor concealed-carry handgun permits issued by other states even if their restrictions are more stringent. As a result, states with more restrictive laws such as New York, Maryland and New Jersey, would be required to honor concealed-carry cards issued by more gun-friendly states.
It has Democrats and Republicans separated by long-drawn lines.
"We know that citizens who carry a concealed handgun are not only better prepared to act in their own self-defense, but also in the defense of others," the panels Republican Chairman Bob Goodlatte of Virginia said during the hearing. "Law abiding Americans should be able to exercise their right to self-defense even when they cross out of their state's borders. That is their Constitutional right."
Representative Jerrold Nadler, who is serving as the acting top Democrat on the panel, called the level of gun violence in America "astounding" and said the issue goes beyond the attacks like Las Vegas and Texas. He, along with other Democrats, said Congress needs to close loopholes in the "patchwork" of state gun laws.
"Instead, this bill dangerously takes us in the opposite direction," Nadler, of New York, said. "This bill would overrule restrictions on the concealed carrying of firearms that states have carefully crafted to make this practice safer, based on the needs and circumstances in each state."
In the Senate, however, the remnants of that brief pause may translate into actual legislation with bipartisan support as early as next month.
Democrats Chris Murphy and Richard Blumenthal, both from Connecticut, say there are discussions under way to move a measure to bolster the existing background check system in the coming weeks, perhaps by unanimous consent or as part of a larger bill.
Murphy said co-sponsor Senator John Cornyn of Texas, the No. 2 Republican leader, has indicated he's working with Majority Leader Mitch McConnell, who's also signed on as a sponsor, to find a way to work it into the chamber's busy December schedule.
The Senate proposal seeks to ensure federal and state authorities comply with existing law and accurately report individuals' criminal histories to a background-check system used before the purchase of firearms.
Gaps in the system apparently allowed the gunman in the Texas church massacre to buy his weapons. The shooter shouldn't have been able to purchase the semi-automatic rifle he used in the attack because while in the Air Force he was convicted in a court martial of domestic abuse in 2012. The Air Force has admitted that it failed to report the conviction to the FBI's national database of criminal records that is used for background checks.
Attempts to strengthen U.S. gun control laws have been stymied since a ban on military-style semi-automatic rifles, commonly known as assault weapons, expired in 2004. Blumenthal said he's hopeful approval of the measure will "break the ice" of inaction on gun-control legislation.
Back in the House panel, where debate centered on concealed carry, a second gun bill was also on the agenda. It's a companion measure to the Senate background check bill, a small island of congressional bipartisanship remaining amid the renewed gun politics battles.
Before it's here, it's on the Bloomberg Terminal.
LEARN MORE