Your Evening Briefing
Here are today's top stories
By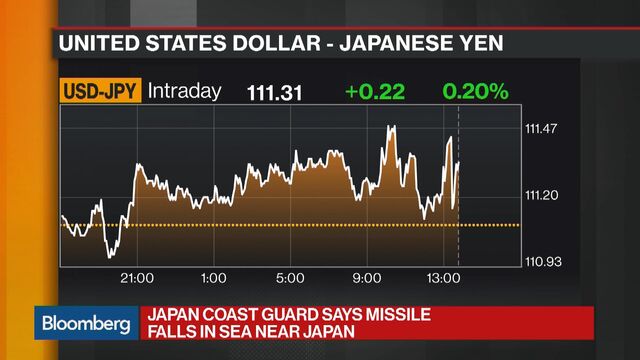 Want to receive this post in your inbox every afternoon? Sign up here.
Good afternoon. It's a crucial week for Donald Trump's presidency and his tax plan that could decide whether he ends his first year in office with a major legislative achievement. Elsewhere, the week is devolving into chaos: It's the second day of a political circus at the Consumer Financial Protection Bureau, where dueling bosses are still asserting they're both in charge. —Megan Hess
North Korea launches another ballistic missile. Today's missile launch is the country's first provocation since Trump labeled North Korea a state sponsor of terrorism earlier this month. Yonhap reported the launch, citing South Korea's Joint Chiefs of Staff. Japan's coast guard said the missile fell into the sea near Japan. The launch ends a relative lull in test activity by the Kim regime.
The top two Democratic leaders in Congress pulled out of a meeting with Trump after he tweeted that a budget deal with them was unlikely, raising the odds that the U.S. government will partially shut down next week. House Minority Leader Nancy Pelosi and Senate Minority Leader Chuck Schumer said they'd skip a "show meeting" at the White House Tuesday afternoon and instead ask for a meeting with their Republican counterparts.
How opioids started killing Americans. More than half of all people who died from an overdose between 2001 and 2007 were chronic pain sufferers who filled an opioid prescription and sometimes even saw a doctor in the month before they died. Only 4 percent were ever diagnosed as having an abuse problem, according to a new study of the opioid crisis for Columbia University Medical Center.
One of America's last true department stores. Macy's began as one shop in New York in 1858. Since then, more than 50 independently owned department stores have been folded into what it is today. Facing eleven consecutive quarters of declining comparable sales, one of the last department stores standing is struggling into the holiday season.
Making or breaking the GOP tax plan. Senate Republican leaders aren't counting on any Democrats for a floor vote that could come Thursday or Friday, but that means they can only afford to lose two members of their own party. These are the eight GOP senators most likely to decide the bill's fate.
The fight for paid sick days. California Republican Mimi Walters has sponsored a federal bill that would encourage companies to provide 14 to 20 days of paid time off, and big business loves it. On average, companies currently offer 10 days of vacation and 10 days of sick leave each year. The new legislation would lump all days off into one category, creating a national paid-time off policy that would include sick time, vacation and holidays.
You're over-spending at restaurants. By all means, go ahead and splurge — just know what to avoid if you don't want to pay a huge markup. Here's  a list of things Josh Capon, the chef and co-owner of Bowery Meat Company and Lure Fish Bar in New York, would never order from a restaurant menu. Pro tip: Stay away from dishes "for the table."
Before it's here, it's on the Bloomberg Terminal.
LEARN MORE