Tillerson Says Russia Isn't Acting Like a 'Responsible Nation'
By
Secretary of state cites cyberattacks, invasion of Ukraine

Tillerson rejects idea State Department is being hollowed out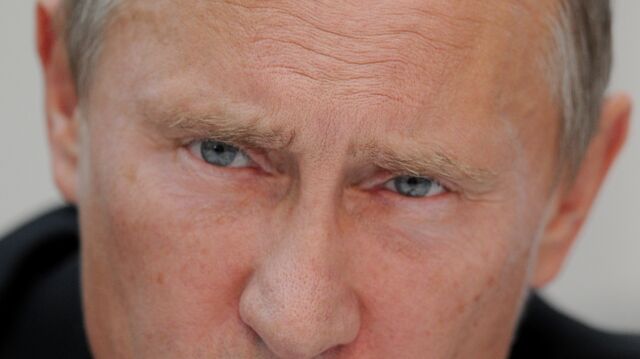 Secretary of State Rex Tillerson delivered a stern message to Russia during a speech on U.S.-European relations, saying the country's cyberattacks, energy policy and invasion of Ukraine "are not the behaviors of a responsible nation."
"We want Russia to be a constructive neighbor of Europe and the larger trans-Atlantic community," Tillerson said Tuesday at the Wilson Center in Washington.
The secretary of state's speech was intended to reassure European allies about the U.S. commitment to them as Tillerson prepares to travel to the region next week. Some countries remain unnerved by President Donald Trump's attitude toward the continent even though his own stance has evolved since the days of his campaign, when he questioned the value of the NATO alliance and made overtures to Russia.
Tillerson touched on several of the administration's top policy priorities, from its approach to Afghanistan to Trump's desire to rally opposition to Iran and navigate strained relations with Turkey.
'Common Defense'
"We ask Turkey as a NATO ally to prioritize the common defense of its treaty allies," Tillerson said, days after President Recep Tayyip Erdogan met with the leaders of Russia and Iran to discuss the conflict in Syria. Turkey surprised its North Atlantic Treaty Organization allies earlier this year by agreeing to buy Russian missile-defense batteries incompatible with NATO systems.
"Iran and Russia cannot offer the Turkish people the economic benefits" that the West can provide, Tillerson added.
The top U.S. diplomat reaffirmed his nation's commitment to mutual defense obligations with NATO allies. At the same time, he repeated Trump's demand that European countries pay more for their own defense.
"Our message to Europe is nothing has changed in terms of our commitment to you," Tillerson said. "The same values that bind us are still there."
Tillerson also pushed back on criticism that his stewardship of the State Department, which includes an elaborate reorganization effort along with moves to slash both personnel and budgets, is undermining the institution.
"There is no hollowing out," Tillerson said. "The numbers people are throwing out are false, they're wrong." He said the State Department is "functioning very well from my perspective."
Before it's here, it's on the Bloomberg Terminal.
LEARN MORE