Politics
The Stan Fischer Protege Riling Netanyahu
The Israeli prime minister is planning a big tax giveaway. The central bank governor doesn't like it.
By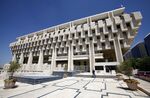 With a police investigation hanging over him and his popularity slipping in the polls, it's easy to see why Israeli Prime Minister Benjamin Netanyahu wants to cut taxes before a possible election next year.
Yet Karnit Flug, the studious economist who has run Israel's central bank since 2013, sees things differently. And she's making sure people know it in what's become a very public clash between the guardians of the country's monetary policy and those in charge of fiscal policy.
Her argument is that Israel's economy is expanding and unemployment is near an all-time low, so now should be the time to invest the billions of dollars from a budget windfall in schools, roads and public transportation or run the risk of having to increase taxes within a few years. Netanyahu's finance minister says it's up to them to decide how money should be spent.
"It's not a good idea to reduce taxes due to a series of one-off tax receipts," Flug said in an interview in Jerusalem. "There may be logic in giving tax breaks as part of a stimulus package when the economy is undergoing a recession. But we're at full employment."

It's not unusual nowadays for central bankers to take their case to the public when they feel politicians aren't listening. 
European Central Bank President Mario Draghi repeatedly criticized leaders in the euro region for not putting enough money into the economy and the Federal Reserve's Janet Yellen exhorted the U.S. government not to make drastic changes to financial regulations enacted after the 2008 crisis.
One problem for Flug, though, is that she's not Stanley Fischer, her predecessor who left in 2013 and became Yellen's deputy at the Fed a year later. When Fischer disagreed with Netanyahu on fiscal policy, he was able to change the government's thinking because he had "a sort of halo" around him, said Ori Greenfeld, chief economist of Psagot Investment House Ltd. in Tel Aviv.
"The finance minister does what he wants at the end of the day," he said. "The point then is to take the matter to the public, to make an impact. Sometimes it works. But it's hard to make a real change especially when you talk about taxes because everyone likes their taxes to be cut."
Flug is worried that reductions in taxes now could lead to an increase in future budget deficits, forcing politicians to either adjust their targets or raise taxes in a couple of years. She's also concerned that a trend of Israel's falling debt relative to the size of its economy could be reversed.
But what concerns her more is that Israel's crumbling infrastructure means it won't be able to catch up with wealthier developed nations in coming decades.
"Young people are not coming to the labor market with basic skills to function well," Flug said. "Civilian spending, especially on education, is very important for that. Take our public transportation system. It's far from being adequate. These shortcomings have a direct effect on productivity."

Flug, 62, served as head of research at the central bank under Fischer and earned his recommendation to replace her. She was only named by Netanyahu to the post after two other candidates pulled out.
How soon a portrait of the first female governor joins her eight male predecessors on a wall in the Bank of Israel will become clear next year.
Party leaders are already in election campaign mode. Political insiders predict the vote will occur sometime in 2018 as an investigation into Netanyahu and his allies over gift-taking and other allegations intensifies. It's also the year Flug's term expires.
A tax cut could help Netanyahu, who suffered in polls recently. The constant drip-drip of headlines has hurt the prime minister's standing while Finance Minister Moshe Kahlon has been criticized for so far failing to bring house prices down, a key campaign pitch. He plans to come good on the tax cuts regardless of what Flug advises. 
"I have not accepted her advice, and do not intend to do so," Kahlon said in a televised interview this month. "I do intend to lower taxes. I am the minister of finance, the public entrusted me with making the decisions. The responsibility is mine."
Beneath the surface though, there is evidence Flug's exhortations are working. While Kahlon and Netanyahu initially floated income tax cuts, in his latest interviews Kahlon spoke about lowering purchase tariffs on imports. That's actually a move Flug says she supports because it encourages more trade and more competition with local industries.

Flug has presided over four years of above-average growth and a stable financial system. One of her biggest challenges has been Israel's soaring shekel, which has hurt manufacturers selling goods abroad. 
She maintained Fischer's policy of foreign currency purchases, taking reserves to more than $110 billion, and defended them against criticism that they amounted simply to a subsidy for exporters. She's also cooled the housing market by requiring banks to adhere to stricter lending rules, pushing up mortgage rates.
Whether she can really influence the government on its big tax giveaway is a different question -- along with whether she will end up serving another term.
"There's a whole year left," she said. "And in this job a year is a long time."
Before it's here, it's on the Bloomberg Terminal.
LEARN MORE