Bitcoin Mania Sweeps Into Manhattan as Crypto Event Packed Solid
By , , and
Digital-coin backers bring investment pitch to Wall Street

Standing-room only for investors assessing latest craze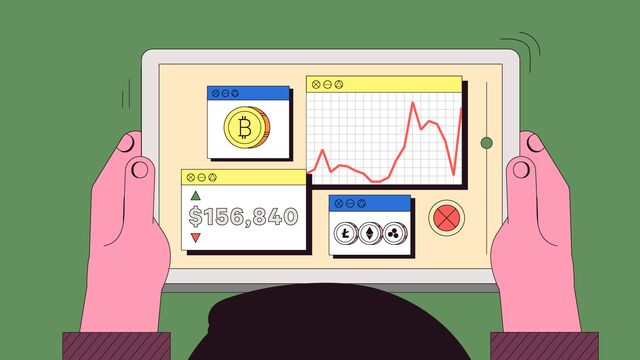 Nothing grabs Wall Street's attention quite like a 10-fold return.
Buttoned-up financiers and analysts piled into CoinDesk's cryptocurrencies conference in Manhattan on Tuesday, turning the event into a standing-room-only affair.
"A few years ago, there'd be one-third the amount of people, and most of you would be in hoodies," Brian Kelly, of Brian Kelly Capital and an early proponent of cryptocurrencies, joked as he took the stage for a panel discussion.

The change in demographic reflects the growing interest from Wall Street investment houses as bitcoin hurtled toward $10,000 -- a milestone hit on Wednesday -- after starting the year below $1,000. It also highlights how they're grappling with addressing an investment craze that has captured the zeitgeist, making it virtually too big to ignore even as many warn it's a fraud bound to end in pain.
For Michael Alpert, a portfolio manager at Stralem & Co., the concern about a bitcoin bubble is overwrought. "I think it has a lot higher to go from here," he said. It was Alpert's first time at a CoinDesk conference, one he felt compelled to attend because it's become impossible to not have an opinion amid the recent euphoria.
He's hardly alone. There are now more than 100 hedge funds dedicated to digital currencies, and venture capitalists are among other investors exploring opportunities. Goldman Sachs Group Inc. and JPMorgan Chase & Co. have started looking at ways to be able to offer trading opportunities to clients.
The rising interest isn't lost on CoinDesk, a media and data firm that promotes digital currencies. While the company has hosted its Consensus industry conference for years, Tuesday's was the first specifically targeting the broader investing community.
Read more on who's up and who's down on bitcoin.
Among the 1,300 participants were representatives from Morgan Stanley, Canaccord Genuity and Sequoia Capital. CME Group Inc. kicked off the event with a presentation on its plans to offer a futures contract based on bitcoin. Tim McCourt, the firm's head of equity products promised the crowd that CME has put in place safeguards such as higher margin levels and limits on positions and prices to curb risks.
Canaccord Genuity Group Inc., a Toronto-based asset management and research company that is seeing increased client interest in cryptocurrencies, had several employees helming a booth at the conference. Michael Graham, an equity analyst who writes quarterly reports on cryptocurrencies, said Canaccord is the market maker for the Bitcoin Investment Trust, an over-the-counter security that offers investors exposure to bitcoin.
"It feels like the space is getting more professional," said Andy Bromberg, chief executive officer of CoinList, a firm that helps run digital coin sales. "I've been coming to the Consensus conferences for the past few years and it's definitely changed. There're fewer hoodies, more suits."
Before it's here, it's on the Bloomberg Terminal.
LEARN MORE