Brazilian Companies Rush to Tap IPO Fever Before Election
By and
$4.4 billion in offerings could make 2017 biggest in a decade

BR Distribuidora, Neoenergia, Burger King among hopefuls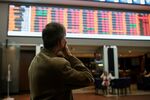 Brazilian companies are rushing to complete up to 14.2 billion reais ($4.4 billion) worth of initial public equity offerings through the end of 2017 before the presidential election spooks investors.
The appetite for a piece of Latin America's biggest economy remains big heading into the final month of 2017, with several high-profile IPOs slated. Petrobras's fuel unit, BR Distribuidora, Burger King's local operator and power company Neoenergia SA, the Brazilian unit of Iberdrola SA, are among those looking to sell shares.
If those deals are concluded at the mid-point of their ranges, Brazil would have more than 25 billion reais in IPOs this year. That would be the highest mark since 2007, when volume hit a record 52.6 billion reais, according to data compiled by Bloomberg.
"Obviously, any election year is complicated, with a higher uncertainty," said Roberto Serwaczak, Citigroup's head of Latin America equity, in a interview at the bank's office in Sao Paulo. "People are trying to anticipate transactions, doing as much as possible this year; the sooner, the better."

BR Distribuidora and Neoenergia are looking to raise as much as 7.5 billion reais and 4.2 billion reais, respectively, the companies said in filings. Burger King Brasil could sell up to 2.5 billion, the firm said.
The IPO bonanza is set to continue early next year, with pharmaceutical company Blau, mid-size lender Banco Inter, sports retailer Centauro and Algar Telecom expected to go public. Toy retailer Ri Happy, owned by Carlyle Group, is also said to be interested in selling shares in 2018, local media have reported.
Investors and companies are eager to pack in the deals as the country gears up for presidential elections in October. Candidates from all corners of the political spectrum have come forward, spurred by recession and scandals that led to former President Dilma Rousseff's impeachment and almost toppled her successor, Michel Temer.
Read more: Bankers Bet Big on Brazil Candidate That Doesn't Exist Yet
It's not just in Brazil that companies are rushing to avoid election-year volatility. Mexico and Colombia will also be voting in 2018. Latin America equity offerings -- including secondary sales -- are up almost threefold year to date, totaling $23.9 billion, compared to the same period last year, according to Bloomberg data.
"The year has been good not only to Brazil, but also to other Latin American countries," Serwaczak said, adding that liquid markets and a "smooth" Fed performance also have been helping sales.
Before it's here, it's on the Bloomberg Terminal.
LEARN MORE